Plans to give some prisoners the vote have caused outrage, with one MP branding the proposal "idiotic". Britain is the only western European nation with a blanket ban on prisoner voting, with only Armenia, Bulgaria, Estonia, Georgia, Hungary and Russia in the Council of Europe with similar rules.
Justice Secretary David Lidington told the Commons that the ban will be scrapped. But only inmates on day release will be allowed to take part in the democratic process. Mr Lidington has faced considerable opposition from MPs but argues that giving some prisoners the vote will help them to prepare for their return to society.
Rules Brought in Line with European Court of Human Rights
Justice Secretary David Lidington has announced that the rules on voting for prisoners should be amended to address an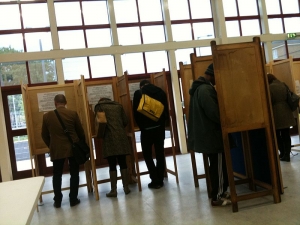 anomaly in the system whereby offenders wearing an electronic tag can vote but those on temporary licence cannot.
He told the Commons that no inmates would be released from prison to vote and the change could affect as few as 100 people. Prisoners will not be able to vote from prison or register a prison as their home address.
The move follows a long-running legal battle with the European Court of Human Rights, which has repeatedly ruled that the UK's blanket ban on prisoners' right to vote breaches their human rights.
Mr Lidington said that the government still believes that offenders detained in prison should not vote but added that allowing some inmates to vote would help to prepare them for their release from jail.
Giving Prisoners Vote "Idiotic and Unjustifiable"
While some MPs welcomed the move, others expressed outrage, including Tory MP Phillip Davies, who said: "I think giving the vote to any prisoners is idiotic, unjustifiable and is about as popular with the general public as finding a rattlesnake in a lucky dip."
Conservative MP Philip Hollobone, told the Commons that David Cameron had said the thought of giving prisoners the vote made him feel physically sick.
"Many of us on these benches feel the same nausea and many of our constituents as well," he added. "I congratulate Mr Lidington on overcoming his nausea."
Shadow home secretary Dianne Abbot said: "The European Court of Human Rights has been saying for some years that we can't stop all prisoners having the vote and the Labour Party believes that in the end, we have to support the position of the European Court of Human Rights."
Lidington Under Pressure as Violence in Prison Soars
Mr Lidington has been under pressure since the release of figures which reveal a record number of assaults on prison staff. He said assaults on staff would "never be tolerated" – despite the 25 per cent rise in attacks since last year, to 7,437.
Other figures paint an even bleaker picture: The Prison Reform Trust points out that there has been a 140% increase in attacks in the last five years, while shadow justice secretary Richard Burgon calculated that there is a violent act in prison every 20 minutes.
Such statistics are bad news for Mr Lidington, who pledged to recruit 2,500 new prison officers but says only 1,290 have been appointed so far, a figure well below the number cut since 2010 – roughly 6,000.
References
http://www.bbc.co.uk/news/uk-politics-41853403
http://www.dailymail.co.uk/news/article-5045279/Outcry-MPs-prisoners-right-vote.html
http://www.itv.com/news/2017-10-26/david-lidingtons-prison-woes-its-even-worse-than-it-looks/
Please follow and like us: