Birmingham Prison: Cars Set Ablaze, Inmates Mistakenly Released, Urgent Notification Issued
Armed men managed to flee after setting fire to cars outside Birmingham Prison, highlighting the need for adequate security to protect staff and inmates. No one was hurt, but questions must be asked about how it was possible for such a serious attack to be carried out so close to the prison's perimeter.
Three days after the fire, the government was issued with an urgent notification to improve Birmingham Prison after inspectors rated it 'poor' in every category. And G4S has had to admit that two inmates were mistakenly released from the jail last year. A video has surfaced of what life is like in HMP Birmingham:
Armed Men Set Fire to Cars Outside Birmingham Prison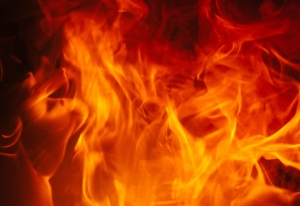 A pair of armed, masked men fled after cars were set fire to outside Birmingham Prison, it was reported on August 7. Police said the men left in a vehicle after nine cars were set alight close to the jail in the city's Winson Green area. The men are believed to have been seen spraying liquid on to cars by workers for G4S, which runs the prison. It is understood that the men revealed a weapon similar to a handgun when they were challenged, forcing the G4S staff to back away. The men then set the cars on fire and escaped through a hole in a fence which had been cut with an angle grinder. Two fire engines were needed to extinguish the blaze.
Detective James Farrell said staff at the prison were alarmed by the incident.
"Firearms officers were at the prison within minutes, but the offenders had already fled," he said. "The motive for the attack is unclear, but we are trawling CCTV to trace the car which made off from the scene."
Urgent Notification Issued Over "Serious Failings" at Birmingham Prison
Three days after the fire at Birmingham Prison, the government was issued with an urgent notification due to "serious failings" at the jail. Justice Secretary David Gauke was urged to address a range of issues after the prison failed all the key tests in its latest inspection. It was rated 'poor' in all four categories – safety, respect, activity and resettlement. Gauke was given a maximum of 28 days to produce an action plan to improve the jail. On the 20/8/2018 The government stepped in to run the prison for a minimum of 6 months to try and rectify some of the failings the private contractor G4S have made.
Riots broke out at the jail in December 2016, causing huge damage to four wings and resulting in 500 prisoners being moved out. An inspection report last year identified a "high volume of illicit drugs" and described education and training as a "major area of concern".
Inmates Mistakenly Released from Birmingham Prison
It was reported on August 13 that nine inmates had been mistakenly released from a number of prisons in the Midlands, including Birmingham Prison. Two prisoners – one serving a sentence for a driving offence and the other for theft – were released in error in 2016/17. A spokesman for G4S said: "Releases in error are very rare and in those unusual instances where a prisoner has been released incorrectly we've worked with the police and other local agencies to quickly ensure they are brought back into custody."
References
https://www.birminghammail.co.uk/news/midlands-news/scandal-prisoners-released-mistake-hmp-15023557
https://www.bbc.co.uk/news/uk-england-birmingham-45145971
https://www.bbc.co.uk/news/uk-england-birmingham-45102877
Please follow and like us: