So, seven months in are there any signs of progress? Stewart believes there are.
In August 2018, Rory Stewart, Prisons Minister made a promise to reduce the epidemic of violence strangling Britain's prisons, and, he announced publicly that if he failed he would resign.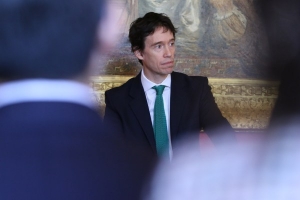 Stewart began with a list of ten prisons that he labelled Britain's worst, but although these prisons are not any place you would want to find yourself, they are not necessarily the worst in Britain. For example, HMP Birmingham is not included, this prison has just been taken back under public control as it is failing so badly and Feltham in West London, Britain's most violent prison is not included, nor is Liverpool, tagged Britain's worst prison after its last inspection.
Stewart has put various measures in place in these ten prisons to attempt to reduce the inflow of drugs and hence violence in the prisons. The idea being that this will set good standards and practice for the rest of the prison estate to follow in the next few years.
The prisons on Stewarts list are, Wormwood Scrubs, Isis, Moorland, Ranby, Wealstun, Leeds, Hull, Humber, Lindholme and Nottingham. When quizzed on why he picked these prisons he revealed he had targeted clusters of prisons struggling to control the flow of drugs from organized gangs operating in the areas of Yorkshire, the North Midlands and London. Stewart feels it is the influx of drugs that makes violence so prevalent and hard to control. Targeting those supplying the drugs is an important step in his violence reduction plans.
Millions of pounds have been poured into the Britain's prisons to attempt to stop the rot that is spreading throughout the estate, caused in part by previous government cuts and the widespread use of new psychoactive drugs such as `spice'. The Ten Prisons on Stewarts list also received an extra one million to help with security, x-ray scanners, sniffer dogs and leadership training.
The task of reducing violence across the whole of the prison estate is a mammoth task and will test the determination of the Prisons Minister.
Last week new data released by the Ministry of Justice reports 22,803 assaults by prisoners in the year to September 2018 and 52,814 incidents of self-harm. Assaults on prison staff have risen by an astonishing 29% and prisoner on prisoner assaults have risen by 18%. These figures are the highest yet.
Over 4000 new prison officers have been recruited since 2016 and are being trained to deal with the highly complex prison population. This brings the number of prison officers back to previous levels and is the highest it has been for seven years. However many are young and inexperienced.
In mid February, Stewart announced his job was safe, he hailed the first drop of violence and drug use in five years in the Ten Prisons. The first actual data will be released later this month, but Stewart is adamant that drugs and violence have been cut in 6-7 of his Ten Prisons. He admits Wormwood Scrubs and Nottingham remain a problem.
There have been critics of Stewart's attempts and some things have not gone to plan, but in reality 6 months is a short time to change an entire system and the public's perception of what prison should be.
Stewart admitted that his "airport style' security scanners would not all be in place until the end of April and that he didn't actually have the home secretary's permission to use them yet. He said the scanners are such sophisticated machines, like an intense MRI scanner, so he needed high-level approval. One of the scanners has been installed in HMP Leeds.
Stewart has also been criticised for pulling dozens of experienced officers out of already understaffed and struggling jails to put them into his Ten Prisons. Stewart defended his move by saying the 30 officers would train and boost the confidence of new and young recruits and make sure they got the basics right. These officers could then move into other prisons to spread good practice.
But union representatives say the move will affect the other prisons that cannot afford to lose experienced staff. The union accused the government of allowing this move to ensure Stewart keeps his job.
One of the problems throughout the estate is a lack of experienced officers, and one experienced officer leading a wing makes a massive difference to wing security. However, the officers' reassigned amount to about 1 officer in 200, in around 30 prisons, Stewart says the benefits far outweigh the drawbacks.
Stewart, alongside David Gauke, Minister for Justice wants to raise the public's knowledge and understanding of prisons and prisoners. He feels the public are now beginning to realise so many of those convicted have a mental illness, often caused by horrible childhoods, trauma and abuse. Over 30% of the prison population have spent time 'in care' as a child and 50% have a reading age of an 11 year old. Once the public understand this, he feels he will be able to raise the dignity of prisoner's lives, which will then help with rehabilitation. He says this is about understanding prisoners and how best to help them change their lives.
For now we only have Stewart's word that violence and drug use is falling in his Ten Prisons, so eagerly await the promised official figures in April. However, Stewart does seem determined to bring about sustainable change in the prison system and in prisoner's lives and not just to save his job.
Please follow and like us: