Christmas in Prison – What's it Really Like to be Incarcerated in the Festive Season?
The Boston Target recently reported that ten inmates from an open prison in Lincolnshire had been allowed to return home to their family at Christmas time. Actual numbers of prisoners released temporarily at Christmas across the country was around 300 in total.
As you might expect, the news was met with outrage by some parties, notably the Tory MP Philip Davies, who commented: 'Being sent to prison is supposed to be a punishment, but these people are being let out to have their roast turkey and Christmas pudding – and that's not what prison is there for. If they wanted to see their families at Christmas, they shouldn't have committed their crimes in the first place.'
What Christmas is Like in Prison
Whether you agree with the decision to allow a few prisoners to return to their families at Christmas is another matter. What is evident is that those 300 were the lucky few – a mere handful of the current UK prison population, which is currently around 85,895 people in total.
What can those who remain locked up on December 25th expect? Of course, all prisons are different, but generally speaking, there are few decorations, no music playing, and certainly not much in the way of presents. Perhaps most significantly, there's also no family – and this is something that inmates frequently state is the worst aspect of their incarceration during the festive period.
The Real Picture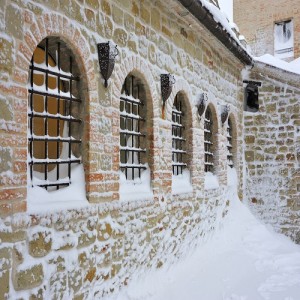 For inmates who have earned special privileges, there may be a break from the routine – such as a meal in the canteen with fellow inmates, rather than alone in a cell. There may also be other privileges to mark the occasion. For example, Stephen, an inmate at HMP Doncaster, states that: 'on Christmas day we were allowed out (of their cells) all afternoon, so there were a couple of pool competitions … just to create a bit of goodwill. It was more like being at a youth club.'
David, an inmate at HMP Barlinnie, comments on the general goodwill between fellow inmates. He says: 'There are some guys that gives Christmas cards to one another, some guys buy a wee bit of extra canteen food, people buy a bag of coffee or tobacco for one another. Some guys will make a (charity) donation in their friend's name.'
Lack of Family Contact
Most inmates agree that the hardest thing about being imprisoned for Christmas is being away from family. For example, Kano, an inmate taking part in a creative writing mentoring programme in prison, writes: 'It's been the first Christmas away from my family. I know my mum will be finding it hard as she always made a massive deal of Christmas. Instead of my little brother and sister running in my room full of excitement waking me up, now it will be the guy in my cell, just as p***ed off as me being stuck inside at Christmas, I guess.'
It's perhaps even harder for those with children – and not to mention difficult for the children themselves. In total, there are around 200,000 kids in England and Wales with parents in prison, who won't be able to join them for Christmas.
Additionally, Frances Crook from the Howard League for Penal Reform highlights that the holiday period is 'like weekends' and that inmates are 'locked up the whole time over the holidays.' The big problem, she states, is that 'the three or four weeks over Christmas, staff want to be with their families, so there is a lockdown in prisons across the whole board.'
She adds: 'Prisoners won't be getting out during the week at all. It's pretty grim and you do find the suicide rate goes up over Christmas and the holiday period, it always does.'
Making Phone Calls
All inmates would prefer to tuck into a turkey dinner with the family – but aside from the fortunate 300 who were allowed out for Christmas, this is an opportunity that very few will have. A phone call is the next best thing, and even a fifteen-minute chat with loved ones can make a big difference. However, calling a mobile is prohibitive, which means most inmates only get to chat for a few minutes before having to hang up.
Our tariffs seek to change that. Find out more here.
References:
http://www.bostontarget.co.uk/Lincolnshire-open-prison-let-inmates-home/story-28263125-detail/story.html?
http://www.independent.co.uk/life-style/health-and-families/features/christmas-time-in-prison-clearing-up-the-myths-9944302.html
http://www.theguardian.com/society/joepublic/2008/dec/17/prison-christmas-day
Please follow and like us: