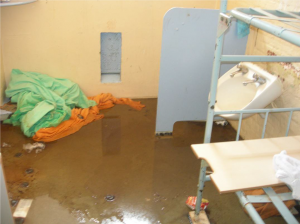 Violence, staff shortages, hooch and drugs are serious problems at HMP Exeter, according to a new report. HM Inspectorate of Prisons said drugs and other contraband was thrown over the prison walls to inmates almost every day, and warns that the high level of violence at the facility could get even worse. The Category B jail has too few staff "to run a predictable and resilient regime", according to the watchdog. The report says too many prisoners feel unsafe and levels of violence and self-harm are far higher than at similar facilities. However, officers at the prison were praised for the way they have dealt with staff shortages, and the National Offender Management Service says it is confident that the issues highlighted in the report can be addressed.
'Appalling Decay of Prisons' Could Hinder Reform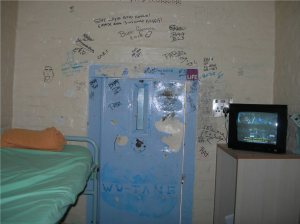 Chief Inspector of Prisons Peter Clarke warned that a further decline in standards at HMP Exeter was inevitable unless violence and drugs at the facility were urgently addressed. In the six months preceding an unannounced inspection in August last year, there were 96 assaults, 45 fights and 173 self-harm incidents. Stability at the prison is said to be "fragile", with only 29 officers for 490 inmates on one day during the inspection.
The report on Exeter came after Mr Clarke told MPs that widespread drug use among inmates, mental health issues and the "appalling" decay of prison buildings would be significant obstacles to the Government's plans to reform the prison service. Justice Secretary Liz Truss will publish a prison and courts reform bill to change the way jails in England and Wales are run – including devolving powers to prison governors.
Issues Exacerbated by Staff Shortages
HMP Exeter faces a significant challenge to reduce the flow of drugs into the facility, says the report. The illicit brewing of the alcoholic drink known as hooch is also identified as a serious problem.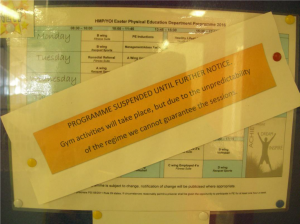 "If the shortage of staff provided the backdrop to the difficulties at HMP Exeter, the foreground was filled by the challenges of drugs, violence and prisoners suffering from mental health issues," added Mr Clarke.
"These were, of course, intertwined, and each in their own way was exacerbated by the impact of staff shortages."
Staff & Management Praised
Despite the report's serious criticisms of the prison, inspectors praised staff and management, noting that it was difficult to see how outcomes could have been "significantly better" given staff shortages.
Michael Spurr, Chief Executive of the National Offender Management Service, said: "We recognise that the prison needs more staff to deal with the problem of drugs, to improve safety and to provide more purposeful activity for prisoners.
"The government has provided additional funding to increase staffing levels and good progress is already being made to recruit new officers. I'm confident that, together with these extra resources, the governor will be able to fully address the recommendations in this report and significantly improve the performance of the prison."
References:
http://www.bbc.co.uk/news/uk-england-devon-38824348
https://www.theguardian.com/society/2017/feb/01/exeter-prison-drugs-violence-inspectors-reform
http://www.exeterexpressandecho.co.uk/exeter-prison-in-decline-according-to-inspection-report/story-30101053-detail/story.html
Please follow and like us: