The Government has backed a scheme to fast-track graduates into the prison service. It is hoped the Unlocked programme will help to increase dwindling prison staff numbers, and reduce violence, self-harm and drug-use in UK jails. The scheme's launch follows a number of serious disturbances at prisons in England and Wales, and accompanies a separate Government recruitment drive to appoint 2,500 new prison officers. But some critics say Unlocked will do little to ease the UK's prison crisis – and the Prison Officers Association has branded the scheme "barmy".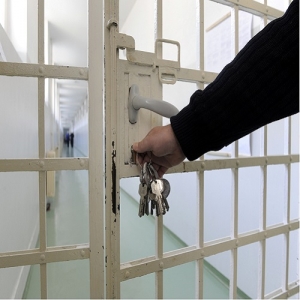 It's Time for a "Rehabilitation Revolution"
Applications for Unlocked opened on January 9. The first group of graduates will complete an assessment and training programme before they start working in prisons in August. Participants will earn £20,545 – currently the salary for entry-level prison officers – and complete a master's degree while training alongside frontline staff.
Unlocked chairman David Laws said the charity was keen to recruit graduates with a good academic record and the "SAS-style mindset" required to make a success of a highly demanding role, combining the skills of counsellors, teachers, police officers and social workers. Mr Laws said the scheme would aim to raise the status of prison staff.
"This isn't about the cliché of a big, burly prison officer spending all their time on control and locking people up," he said.
"We know that we are never going to create a rehabilitation revolution unless we change the whole culture of prisons, including on the wings."
Urgent Need to Recruit Prison Officers
In addition to backing Unlocked, the Government has announced a drive to recruit 2,500 prison officers in England and Wales to tackle staff shortages and declining standards in jails. Significant cuts to the Ministry of Justice and a 26% fall in the number of frontline prison staff have contributed to the service's failure to cope with recent disturbances, according to critics including Labour and prison unions.
Recruiting new prison officers may continue to prove challenging – despite new initiatives, such as Unlocked. Prisons minister Sam Gyimah said the Ministry of Justice would have to recruit 8,000 officers to achieve the promised rise of 2,500 by 2018, and has admitted that prisons have become "less desirable" environments to work in, partly due to the increased frequency of attacks on staff.
Prison Officers "Transform Lives of Offenders"
Announcing her support for Unlocked, justice secretary Liz Truss described prison officers as "some of our finest public servants".
"There are very few jobs where you genuinely get the opportunity to reform and transform the lives of offenders, and the lives of their families, creating a safer society," she added.
"I want to ensure that we attract the most talented and dedicated individuals, from the widest possible pool."
Natasha Porter, chief executive of Unlocked, said the importance of prison officers' work was often underestimated.
"They deal with some of the most challenging situations and work with some of the most vulnerable people in society," she said.
"They are effectively mentors, counsellors, teachers, police officers and social workers. The aim of Unlocked is to help raise the status of the profession and to help reduce reoffending."
But Andy Darken, assistant general secretary of the Prison Officers Association, branded the scheme "barmy".
He said: "We have concerns if they are suggesting that because they are graduates that this in some way will reduce offending. That doesn't make sense.
"To get through the beginning of the day to the end of the day unharmed is a good day for a prison officer."
References:
http://www.bbc.co.uk/news/education-38392077
http://www.itv.com/news/2016-12-21/two-year-prison-officer-graduate-scheme-set-to-be-launched/
https://www.ft.com/content/faabebb6-c6d5-11e6-9043-7e34c07b46ef
http://news.sky.com/story/top-graduates-invited-to-become-prison-officers-10703731
[vc_cta h2="Did You Know PrisonPhone Can Save Inmates Up To 75% On Their Calls?" txt_align="center" add_button="bottom" btn_title="Find Out More" btn_color="success" btn_size="lg" btn_align="center" btn_i_icon_fontawesome="fa fa-location-arrow" btn_link="url:https%3A%2F%2Fwww.prisonphone.co.uk|||" btn_add_icon="true" btn_button_block="true" btn_custom_onclick="true"][/vc_cta][vc_row][vc_column]
Please follow and like us: