A specialist squad has been formed to crack down on criminals who use drones to smuggle contraband into prisons, the government has announced. Police and prison officers will collaborate to target the use of drones to fly drugs and mobile phones over prison walls and into the hands of inmates. Announcing the plans, prisons minister Sam Gyimah warned that anyone found causing a security threat to the prison system with a drone would be "put behind bars". But the government has been accused of glossing over the real issues facing prisons, such as overcrowding and understaffing, with one critic calling the idea a "silly initiative that probably won't do much good".
'We Will Find You & Put You Behind Bars'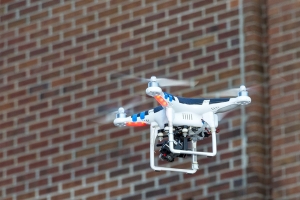 Prisons Minister Sam Gyimah said: "We are absolutely determined to tackle the illegal flow of drugs and mobile phones into our prisons and turn them into places of safety and reform.
"The threat posed by drones is clear, but our dedicated staff are committed to winning the fight against those who are attempting to thwart progress by wreaking havoc in establishments all over the country.
"My message to those who involve themselves in this type of criminal activity is clear – we will find you and put you behind bars."
The squad will collate intelligence from across prisons and the police to identify lines of inquiry, which will be passed to local forces and organised crime officers. The announcement comes after the longest sentence of its type was handed down last month, when Remo White-Channer and Romaine Gayle were jailed for six years and six months and four years and four months respectively for using drones to smuggle contraband worth £48,000 into prisons in Hertfordshire, Suffolk and Kent.
'Not Dealing with Problems of Drugs & Phones in Prisons'
According to some prison experts and former inmates, drones are a minor problem in the context of the wider issues facing the prison system, and the Government's announcement is little more than a PR exercise to gloss over the real problems.
Alex Cavendish, former prisoner and prison affairs academic, said: "The drone issue has become something of a distraction from the real problem. Prisons are awash with drugs, but this is not because of drones. This is because of corrupt staff – that's the reality.
"Nobody who is serious about being in the drugs trade is going to take a risk of putting product worth £1,000 on the outside – worth £6,000 on the inside – on a drone and then losing it, because someone has to pay that bill."
And criminologist and former prison watchdog chair Faith Spear said the plan failed to deal with the root causes of serious problems in prisons, such as overcrowding and under-staffing.
"When you think of the relatively small amount of drones that get into prisons, they couldn't bring the amount of mobile phones and drugs in that you find within a prison. It's just not possible," she said.
"A lot of it comes through corrupt staff, and these kinds of things are hidden. Even if other officers or governors are aware, a lot of these things are dealt with in house – not out in the media. So we only hear about a small number of cases, but it's widespread.
"They say they've got this new initiative they want the public to grab hold of, but if you're not dealing with the root causes, all this is a facade. It's not dealing with the problems of drugs and phones within prisons. It's not dealing with the real issues, like overcrowding and under-staffing.
"I don't know whether the public will take it on board, but I think anyone who knows about the business and have worked in prisons will know that it's just a silly initiative that probably won't do a lot of good."
References:
https://www.gov.uk/government/news/new-squad-formed-to-tackle-drone-threat-to-prisons
http://www.independent.co.uk/news/uk/home-news/drones-prisons-ministry-of-justice-jails-liz-truss-sam-gyimah-a7686561.html
Please follow and like us: