Justice secretary David Lidington is under pressure to take urgent action to improve the prison service. He has been urged to "get a grip" on the issue of prisoners facing indeterminate sentences under the Imprisonment for Public Protection (IPP) programme, many of whom have self-harmed or developed mental health problems. Following stark warnings from the chief inspector of prisons, Lidington has pledged to respond quickly to reports on individual prisons and do more to reduce reoffending among inmates.
High Levels of Suicide, Assault and Self-Harm
The Imprisonment for Public Protection programme was abolished in 2012, but there are still 3,300 people in prison with no release date under the scheme.
According to Parole Board chair Nick Hardwick, hundreds of inmates are serving considerably more than their minimum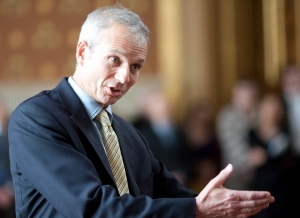 tariffs and many have developed mental health problems or self-harmed.
"The levels of suicide, assault and self-harm are unacceptably high," he said.
"It's the fault of political and policy decisions that should have been put right two years ago."
Hardwick is urging Lidington to "get a grip" on the problem and make the changes which Michael Gove pledged to before he was replaced by Liz Truss as justice secretary.
IPP Inmate "Left to Rot"
James Ward was given an IPP for arson with a minimum tariff of 10 months in 2006, but is still behind bars. His family say he has become dangerously thin and prone to self-harming after being "left to rot".
Hardwick said "hundreds and hundreds" of inmates were going through similar experiences to Ward's and argued that the state should have to prove that a convicted inmate was a danger to the public to reduce delays to their release.
576 IPP releases in 2016
The Ministry of Justice says it is working closely with the Parole Board to process the cases as quickly as possible.
A spokeswoman said: "We are determined to address the challenge of making sure all IPP prisoners have the support they need to show they are no longer a threat to public safety. Earlier this year, we set up a new unit focused on this and improving the efficiency of the parole process. This work is continuing to achieve results, with 576 IPP releases in 2016; the highest number of annual releases since the sentence became available in 2005."
'Illegal Drugs and Phones Lead to Violence and Misery'
Justice secretary David Lidington has announced that a new unit will be set up to ensure that the government reacts quickly to reports on individual jails by chief inspector of prisons Peter Clarke.
In a piece for the Evening Standard, Lidington said the government would respond to the chief inspector within 28 days when he flagged a significant concern, and provide an explanation if the government decided not to take any of his recommendations.
Lidington said the government was investing in more prison staff and technology to tackle illegal phones and drugs in prison.
"There is too much violence and self-harm," he said.
"There are growing concerns about increasing numbers of criminal gangs in London and other cities moving from the streets to prisons, continuing their violent feuds.
"The use of illegal drugs and mobile phones, and their trade inside jail, leads to violence, addiction, debts, threats and misery."
References
https://www.theguardian.com/society/2017/aug/14/liz-truss-get-grip-backlog-prisoners-held-beyond-interdeminate-sentence-ipp
https://www.standard.co.uk/comment/comment/prison-reform-must-also-factor-in-a-new-focus-on-rehabilitation-a3611251.html
Please follow and like us: