Mothers Behind Bars – The Situation for Mothers and Babies in Prison
The importance of the mother and baby bond is widely recognised across the world. Indeed, the US Department of Health and Human Services states that 'the importance of early infant attachment cannot be understated', observing that it provides the necessary foundations for the child to form relationships with others, and to nurture children of their own in the future.
In short, denying a baby direct and constant access to its mother in its formative stages can be damaging. According to Scientific American, babies who do not receive the appropriate physical and emotional care are 'at higher risk for behavioural, emotional and social problems as they grow up.' However, the challenges British prisons face when it comes to maintaining the bond between mother and child are extensive, and the solution not perhaps as easy as it might seem.
Current Government Approach
On their website, the government clearly states that women who give birth when in prison are entitled to have their child with them for the first 18 months, in a specialist mother and baby unit. If they already have a child under 18 months when they enter prison, they can apply to have the baby stay at prison with them – again, in a specialist unit.
However, a number of factors are considered before this can take place. In some instances, this is justifiable. For example, if the mother is deemed a danger to the baby in any way, either physically or mentally, the prison authorities may rule that it's inappropriate for the child to be exposed to her behaviour. However, in other cases, it may be a simple case of there not being enough room in the mother and baby unit; which then means that the baby is placed with a relative or foster carer while the mother serves her sentence.
Positive Steps in Prisons
The mother and baby units in the UK go to great lengths to create a pleasant environment for inmates and their children. HMP Eastwood Park offers plain but comfortable rooms with cots, a large nursery area with sandpit, library and tables, a garden with play area and a TV room with sofas. Inmates are permitted to wear their own clothes in order to raise self-esteem, and are also allowed to rise at a time that suits them (as many will have been up in the night with their baby).
However, the establishment requires faultless behaviour from its inmates. Mark Thompson, governor of the mother and baby unit, states that 'it's not here for the mothers. It's for the children who have not done anything wrong and who deserve a good start in life – and perhaps get a better one in here than they would have had with their mum's previous chaotic lifestyle.'
More Mothers Incarcerated than Necessary?
Whilst Thompson's statement is admirable on a number of levels, his no-nonsense, 'black-and-white' attitude towards the inmates themselves is fairly typical among prison officers of all levels. Indeed, it mirrors ex Justice Secretary Chris Grayling's opinions- that a hard line needs to be adopted in order to ensure inmates stop reoffending.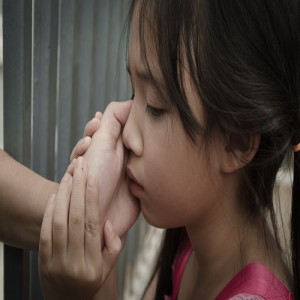 However, numbers of female inmates in the UK have doubled in recent years, and 80% of women offenders are incarcerated for non-violent crimes. This raises the question – do they need to be in prison at all? At HMP Eastwood Park, Chan, a Chinese professional interpreter, served a one-year sentence for identity fraud, despite having applied for voluntary deportation after her initial arrest. When at Eastwood Park with her then 9 week old baby, she commented: 'We don't have this kind of unit in China. But I wouldn't have had a jail sentence in China for an offence as minor as this.'
The Mother / Baby Link Broken
Of course, while it's commendable that the UK has spaces for around 80 women and babies to be together while the mother serves her sentence, this doesn't resolve the problem of the other children left without a mother. Of the nearly 4,000 women currently in UK prisons, over half are mothers; and the vast majority have children over the age of 18 months. These children, while their mums are serving a prison sentence, are left with relatives if they are lucky – or left with the authorities if they are not.
The big question remains – do these mothers necessarily need to be in prison, away from their children? Or is there another solution to the problem?
References:
http://aspe.hhs.gov/basic-report/infant-attachment-what-we-know-now
http://www.scientificamerican.com/article/infant-touch/
https://www.gov.uk/life-in-prison/pregnancy-and-childcare-in-prison
http://www.independent.co.uk/news/uk/home-news/mothers–prison-babies-behind-bars-8143296.html
Please follow and like us: