This month, new power was given to prison authorities, enabling them to clamp down on illegal mobile phone use behind bars. Despite the fact that use of mobile phones is banned in prisons, over 15,000 phones and sim cards have been seized in jails in the last year alone – and the government has decided to take strong action as a consequence.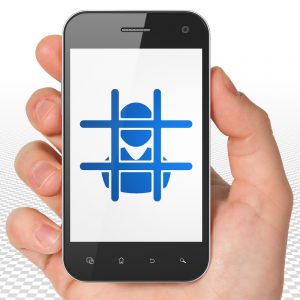 What's the Problem?
Use of mobile phones in prisons can be problematic. Although many inmates have them just to stay in touch with family and friends, other prisoners use them to run criminal operations. A recent example is Izzet Eren – who during his time at Wormwood Scrubs, used his illegal phone to coordinate a gang to spring him from a custody van, whilst he was being transported to court.
Likewise, Alexander Mullings arranged the importation of machine guns from his mobile phone at Wandsworth Prison, and Christopher Welsh masterminded a large-scale drug-smuggling operation whilst behind bars. Inmates have even used their mobile phones to arrange the murder of other inmates.
Taking Action Against Illegal Mobile Phones in Prison
The new powers seek to offer a resolution to the problem – by enabling prison authorities to black-list phone numbers and disconnect sim cards. This makes life a lot easier for prison staff, as they won't have to rely on discovering the hand-set itself anymore; instead they can use phone-surveillance systems.
In response to the move, Ben Wallace, Home Office minister of security, commented: "Criminals are locked up to protect communities from their actions, so it's totally unacceptable for them to continue their life of crime behind bars."
The Impact on Inmates
The new crack-down should help to eradicate the growing problem of criminal activity behind bars. However, it will also negatively impact those who simply want to stay in contact with their loved ones whilst in prison. Over the years, we've spoken to a number of prisoners in the UK, who have told us that making calls whilst serving a sentence is challenging. Communal phones are often broken, and inmates also have to wait for a long time to use them.
Even when the phones are available for use, it's challenging to call home. Most inmates choose to call a landline number, as it's considerably cheaper (calls to mobiles can cost as much as 40p a minute, and prisoners only have a limited allowance a week). However, often family members aren't available to answer the call – as they have no idea when they'll be contacted. The result? Inmates are unable to speak to their partners, parents or children – and feel increasingly frustrated and disconnected with the world beyond the prison walls.
Seeking a Solution
Prison Phone's low-cost tariffs are designed to help combat this problem. Starting from only £5.99 a month (which the family  pay, not the inmate), they help inmates to stay in touch with loved ones, without spending a substantial portion of their weekly prison allowance.
Being able to talk to loved ones is an important part of the rehabilitation process; and ensures inmates don't feel isolated and alienated from the world outside. If you'd like to find out more about getting a low-cost prison phone package, visit the Prison Phone website today.
References:
https://www.theguardian.com/society/2016/aug/11/new-powers-launched-to-cut-off-illicit-mobile-phones-used-in-prisons
Please follow and like us: