Prison rules have created barriers between children and their fathers, according to Barnardo's. The charity has urged the government to reform the Incentives and Earned Privileges scheme, under which some inmates who fail to show "positive and motivated behaviour" can only see their children for two hours every four weeks.
Prisoners' children need more support to keep in contact with parents in prison, according to Barnardo's. They are more likely to experience mental health problems, bullying, poverty and decreased school attendance and achievement. They are also more likely to offend themselves, and inmates who have regular contact with loved ones are less likely to reoffend.
Inmates Have to Earn Visiting Rights
Every year, around 200,000 children in England and Wales have to cope with parental imprisonment, and make almost 10,000 visits to jails every week. Barnardo's was told last year that Incentives and Earned Privileges (IEP) was under review. The charity has now written to the Prisons Minister, calling for the scheme to be brought into line with the rules governing women's jails.
Guidance on women's prisons says children should not be stopped from visiting their mother due to her behaviour. But some male prisoners are entitled to just two hours a month to see their children under the IEP system – although they can earn more visiting rights by showing motivation, seeking qualifications or helping others.
'It Should be a Child's Right to Visit Their Dad in Prison'
Prisoners on 'enhanced' status get family weekend and holiday visits from their children but other prisoners' children have to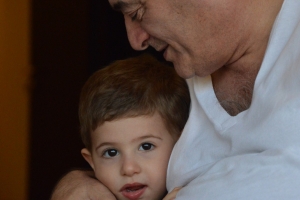 take time off school to visit. From 2012 to 2014, the number of inmates on basic status increased by 52% and those on enhanced status decreased by 16%. Research by the Ministry of Justice shows that inmates who are regularly visited by loved ones are 39% less likely to reoffend.
Barnardo's Vice President Floella Benjamin, who recently raised the issue in the House of Lords, said: "It should be a child's right to visit their dad in prison, not for a dad to earn the right to see their child.
"Children massively struggle with the distress and confusion of having their father taken away.
"To then stop them spending a few precious hours with their dad simply traumatises them even further."
'Places of Safety and Reform'
The Ministry of Justice said it recognised the importance of families in helping offenders to reform, and repeated that it was "committed to transforming prisons into places of safety and reform".
A spokesman said: "We recognise the need to provide those in our custody with stable environments, as well as opportunities to change their behaviour and turn away from a life of crime.
"Relationships with families can play a key role in this. We have a dedicated strategy to help strengthen family ties, including giving governors flexibility over their budgets to support schemes that help offenders maintain these relationships."
References
http://www.huffingtonpost.co.uk/entry/male-prisoners-children-family-visits_uk_599bf1f0e4b04c532f440e3f
http://www.barnardos.org.uk/news/End-prison-scheme-stopping-children-visiting-dads/press_releases.htm?ref=126026
Please follow and like us: