Levels of violence at HMP Hewell remain unacceptably high, according to a new report. There were 49 fights, 159 assaults on inmates and 47 assaults on staff during the six-month period assessed by HM Inspectorate of Prisons. Overcrowding, broken toilets and high availability of drugs were also identified as problems at the jail, which was described as "dirty and dangerous" in 2013.
Significant Levels of Violence
HMP Hewell recently merged with a nearby open prison, and now holds more than 1,300 inmates – around 200 of whom live in open conditions. When the prison was inspected in 2013, high management turnover and low staff motivation were identified as areas in urgent need of improvement. In 2014, levels of self-harm and bullying were found to be high, and in 2015, an increase in violence and drug use was identified by the prison's Independent Monitoring Board.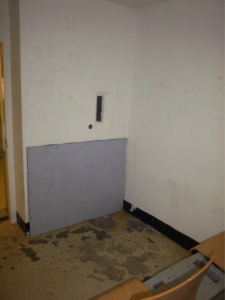 But despite warnings to urgently improve, the facility is still plagued by "significant levels of violence". HM Inspectorate of Prisons' latest report says progress at the facility since 2013 has been limited, while some areas have deteriorated and the failure of a number of systems creates "needless frustration, prisoner debt, bullying and violence". Inmates reported feeling less safe and more victimised than at similar facilities, and procedures to induct new inmates were found to be "chaotic". The report brands the prison's practice of strip-searching inmates on their way to the open site "wrong", and investigations into incidents were found to be inadequate.
Bare Wires & Broken Toilets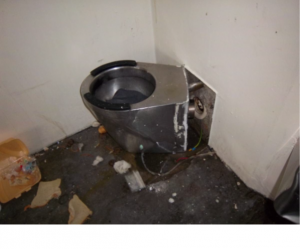 Inspectors said many of the prison's facilities were broken or damaged.
"We found one cell with live, bare wires protruding from the wall and a broken toilet that was leaking so badly that the occupant felt forced to urinate in paper cups," reads the report.
Although cleanliness was found to have improved, many cells are in need of cleaning and decorating, and overcrowding and graffiti are still widespread, according to the report.
Urgent Reform of Prison System Needed
The lack of improvements since the prison's last report, which recorded one murder and six suicides, is "alarming", according to the Howard League for Penal Reform's Andrew Neilson.
"No one should be so desperate while in the care of the state that they take their own life," he said, adding that the report was the latest in a long line which clearly illustrated the need for the urgent reform of the prison system.
Further Improvements Needed at HMP Hewell
Although the report calls for a number of improvements, it praises the prison for "reasonably good" relationships between staff and inmates, and describes the facility's management team as "focused and committed".
Responding to the report, National Offender Management Service chief executive Michael Spurr said he was pleased that the report acknowledged that some progress had been made.
He added: "There remains more to do, particularly on safety, but the strong foundations that are now in place will allow the prison to address the recommendations in this report, and drive further improvements over the coming months."
References:
http://www.coventrytelegraph.net/news/uk-world-news/hmp-hewell-worst-prison-britain-12428171
http://www.bbc.co.uk/news/uk-england-hereford-worcester-38564372
https://www.justiceinspectorates.gov.uk/hmiprisons/wp…/4/…/Hewell-web-20141.pdf
Please follow and like us: