Prisons Up in Smoke: The Smoking Ban
The government recently announced their plans to phase in a smoking ban across all 136 prisons in England and Wales, beginning next year. The decision came after a number of high profile cases in which prison officers and inmates complained about the impact of passive smoking; yet in spite of the health benefits of imposing a ban, the decision remains controversial.
Health & Safety
Peter McParlin, national chairman of the Prison Officer's Association, welcomes the decision to ban smoking. He points out that 'smoking is banned in workplaces across the UK' and queries why prisons should be any different.
This is, of course, a fair point. The dangers of inhaling second-hand smoke are well documented, and according to the NHS, passive smoking can 'increase your risk of cancer and other health problems.' Terry Fullerton, a member of the Prison Officer's Association's national executive committee, highlights the unfairness of the situation, saying: 'We are the only group of workers in the country that have to go to work and suffer the effects of second-hand smoke.'
80% of Inmates
However, whilst many prison officers are not impressed with smoking in prisons, most prisoners certainly haven't been complaining.
Tobacco use is currently prevalent in all UK prisons, and around 80% of inmates smoke. Although they're not permitted to light up in certain areas of the prison building, they are allowed to smoke in their own cells.
For many prisoners, smoking is a way of managing stress when inside. Imposing a smoking ban would leave inmates suffering from nicotine withdrawal, which at the best of times can cause irritability, frustration and even depression. In a large prison such as HMP Wandsworth, the ban could bring about a situation where over a thousand inmates were suddenly placed under significant stress- a worrying situation indeed.
Only a month ago, riots broke out in a prison in Melbourne, Australia, after a smoking ban was imposed. It's easy to see how the same could happen in the UK, and even the Prison Governors Association president, Andrea Albutt admits that it could cause 'stability issues'.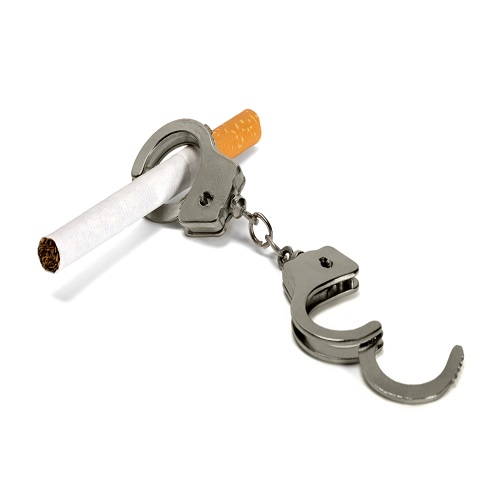 Tobacco – Prison's 'Delicate' Economy
According to ex-inmate Charlie Gilmour, in prison, tobacco is not only used as a means of controlling stress, it's also a vital form of currency. He states that: "In principle the ban could act as harsh medicine for helpless addicts but, in reality, it will probably cause more problems than it seeks to resolve.' He adds that "in my experience, there are few groups of people more adept at getting around the rules than prisoners."
Instead of smoking legally, inmates will simply resort to smuggling tobacco into the prison, as they do already with drugs and mobile phones.
Drop in Crime at Non-Smoking Prison?
HMP Isle of Man is one of the only prisons in the UK (and Europe) currently operating a smoking ban. Interestingly, crime rates have dropped since the non-smoking prison opened; which some suggest is due to the lack of tobacco creating a powerful deterrent.
A police source claims that: "It's a standing joke now that when we nick someone we remind them that if they get sent down they'll have to come off the cigarettes – their faces are a picture."
Removing Another Source of Support
Although it's undeniable that smoking is bad for your health and that prison officers should have the right to work in a smoke-free environment, it's also clear to see that banning cigarettes in prisons has the potential to be problematic.
In an environment where stress-levels already run high, where violence is already a significant problem and where support from family and friends is limited, taking away yet another form of comfort from a prisoner perhaps nudges them one step further away from rehabilitation.
Only time will tell how successful the ban will be.
References:
* http://www.bbc.co.uk/news/uk-33617492
* http://www.theguardian.com/society/2015/jul/26/whitehall-prison-smoking-ban
* http://www.ibtimes.co.uk/uk-prison-smoking-ban-could-trigger-riots-among-stressed-out-inmates-1511992
* http://www.nhs.uk/chq/pages/2289.aspx?categoryid=53&
* http://www.theguardian.com/society/2015/jul/26/whitehall-prison-smoking-ban
* http://www.telegraph.co.uk/news/newstopics/howaboutthat/6900265/No-smoking-prison-sparks-drop-in-crime.html
Please follow and like us: