Robert Buckland,  New Prisons Minister
After a long ten day delay Robert Buckland QC MP was named as the new Prisons Minister after Rory Stewart's promotion to Theresa May's cabinet as International Development Secretary. The announcement was made very quietly on May the 9th and since then Buckland has kept a low profile while he learns his new role.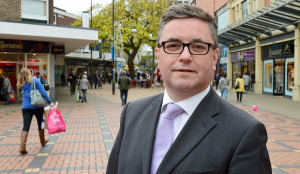 Buckland is the Conservative Party MP for South Swindon, winning the seat after three unsuccessful attempts in 2010. He has held it since then with a decent majority. He is also a British barrister and was Solicitor General from July 2014 prior to his move to the Justice Department.
Robert James Buckland was born in September 1968, 50 years old, in Llanelli. He married Sian Buckland in 1997 and they have twin children Millicent and George. The two met at university on 2002 and now live in Wroughton. Buckland enjoys music, wine, political history and watching rugby and cricket.
He went to Hatfield College, Durham, and graduated in Law in 1990 and was called to the Bar at Inner Temple in October 1991. He practiced law in Wales, recently being a member of Apex Chambers in Cardiff. Robert is a door tenant at 23 Essex Street Chambers, London. In 2009, he was appointed as a Recorder of the Crown Court, sitting on the Midland Circuit.
Buckland has a thorough understanding of the criminal justice system and sat on the Justice Committee for three months in 2014 and the Human Rights Committee between February 2013 and March 2015.
His specific responsibilities include:
Prison operations, reform and industrial relations
Probation services and reform industrial relations
Sentencing (including out of court disposals)
Public protections (including Parole Board, IPPs and Serious Further Offences)
Foreign National Offenders
Extremism
Electronic Monitoring
Supporting the Secretary of State on departmental finances and transparency
It appeared that Rory Stewart was determined to effect positive change in the Prison System alongside David Gauke and figures were just beginning to show signs of improvement, although there was a lot of work still to be done. Although Stewart was a Conservative through and through, even attending Eton, he seemed to be sensitive to the needs of prisoners and of the dire need for reform. Buckland has a very different voting record, and different social ideas to Stewart, so I wonder what the future for prison reform. Buckland's politics appear to be to the right of Conservative policy and protecting the wealthy and big business at the expense of the poor and marginalized is important to him.
Robert Buckland has consistently voted against gay rights and against allowing marriage between two people of the same sex. He has also voted against laws to promote equality and human rights and against allowing terminally ill people to be given assistance to end their lives. To my mind this is not a good record for a reformist to have and makes me worry about continuing reform in prisons.
He is a very pro Brexit MP and has voted against more EU integration and membership in the past, he is also against allowing EU members in the UK the right to remain. Alongside this he has consistently voted against increasing benefits in any areas and almost always voted against spending public money to create guaranteed jobs for young people who have spent a long time unemployed.
In fact in every area Buckland has voted in favour of the rich at the expense of the poorest in society. As far as crime goes, in 2012, Buckland, called for prisoners' mobile phones to be destroyed or sold to raise money for victims' charities, saying that mobiles in prison were a "menace" and that selling them would provide a service to the country, as it costs £20,000 a year to store criminals' phones.
On a slightly brighter note As Solicitor General, Buckland took the Serious Crime Act 2015 through its Commons stages in Bill Committee. The Bill contained provisions that updated the criminal law of child neglect and introduced a criminal offence of coercive control of people within close relationships in a domestic context. As a backbencher, he had campaigned on these issues.
In 2017 he wanted the state to use existing powers to lengthen prison sentences for abusers such as the 18 predominantly Asian defendants in then Newcastle grooming case.
There have also been one or two causes for concern in Buckland's private life and his ethical stance on all things money. The Bar Standards Board found Buckland guilty of professional misconduct, in 2008. He had headed up an investigation into a racially-motivated attack at a school at which he was a governor. Buckland illegally tried to obtain documents about the incident that were held by a barrister representing one of the pupils. The Attorney General's office said Buckland's breach was "minor" and that the finding "was removed from the Bar records after two years.
There has also been a couple of queries over his finances, in 2015 it was reported that Buckland was one of a number of individuals investing in the Invicta Film Partnership, which HM Revenue and Customs (HMRC) had alleged to be a tax avoidance scheme. This followed a tax tribunal that had ruled that two film partnership schemes were being used primarily for tax avoidance and that the investors were not therefore entitled to the claimed tax relief. Buckland denied he had tried to escape paying any tax and his records were free for viewing.
In April 2016, it was reported that he was one of 12 ministers using 'blind trusts'. Investments, matters within a blind trust can be kept completely private as financial control is handed to a third party, resulting in issues of transparency for politicians. Such financial arrangements are legal but not common.
Time will tell, and we will give him the benefit of the doubt for now, as I would hate to see the prison system spiral back into the days of Chris Grayling. But, I suspect Buckland will be someone who feels prisons should be places of punishment and not rehabilitation and reform, and the ideas of dignity and respect will take a back step. However, there is still the reforming presence of David Gauke, Justice Secretary and Peter Clarke, HM Inspector of prisons who says things like they are in his reports. And you never know- Rory may become Prime Minister!
Please follow and like us: