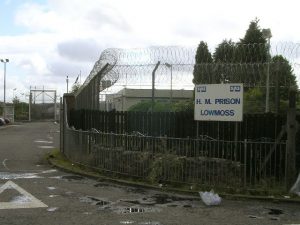 Rehabilitation is an integral part of the prison process. Without successful rehabilitation, inmates struggle to find employment once they're released. And without a job, the likelihood of them reoffending is significantly higher.
With this in mind, HMP Low Moss recently launched a pilot scheme, designed to get inmates into employment more quickly. Here's some details about the prison, the scheme itself, and the results it produced.
HMP Low Moss
Low Moss Prison is located on the outskirts of Bishopbriggs, near Glasgow. It's a relatively modern establishment, which opened in 2012; and holds male inmates, mainly people from the North Strathclyde Community Justice Authority area. HMP Low Moss has an operational capacity of up to 784 inmates, and replaced a former prison on the site, which was only able to accommodate 327 prisoners.
In the past, HMP Low Moss has had issues – notably in 2013, when an inspection report revealed that there had been 15 serious attacks by prisoners in fellow inmates, plus a further 150 less serious assaults, 10 of which were on prison staff.
However, the HM Chief Inspector of Prisons said that Low Moss prison had 'appropriate staffing levels' to 'ensure good order is maintained'.
Low Moss Prison: Strong Background in Employment
HMP Low Moss has also got a solid track record in terms of keeping inmates stimulated. The same 2013 report commented on the high numbers of inmates taking part in 35 hours of purposeful activity a week, such as education or work.
The Inspector of Prisons commented: "I am particularly impressed with the links that have been fostered with local groups and the community. Access to purposeful activity and visits also deserve to be singled out for praise. A clear positive culture and can-do attitude has been created and bought into by both staff and managers."
The Shaw Trust Scheme
This year, The Shaw Trust (an employment charity) set up a scheme at HMP Low Moss, working with 11 inmates to help them find meaningful employment after their sentence, and to reduce levels of reoffending.
The scheme took place 12 weeks before the inmates' release – and started with initial advice and training in key skills, such as CV writing and performing well at interview. It was a personalised programme, which took into account the inmate's ambitions and unique skillsets, along with their existing employment history.
Additionally, The Shaw Trust arranged for suitable employers to visit the prison, to interview inmates for jobs after their release.
The Results for Low Moss Prison?
The results of the scheme were extremely positive. At the time of the scheme's conclusion, six of the inmates were in employment, and the remaining five had secured jobs ahead of their release.
Ashley McCloy, operations manager for The Shaw Trust in Scotland, commented: "Offenders are less likely to commit crime after release if they are given the tools to change their lives for the better and can see a clear route into employment."
After the success of the project, The Shaw Trust are looking to offer the programme to more Low Moss Prison inmates, with a view to eventually extending the service to prisons across the country.
References:
http://www.sps.gov.uk/Corporate/Prisons/LowMoss/HMP-Low-Moss.aspx
http://www.bbc.co.uk/news/business-35958774
https://en.wikipedia.org/wiki/HM_Prison_Low_Moss
http://www.bbc.co.uk/news/uk-scotland-glasgow-west-24287055[/vc_column_text][/vc_column][/vc_row][vc_row][vc_column][vc_cta h2="Know an inmate at HMP Low Moss?" txt_align="center" add_button="bottom" btn_title="See how we can save them BIG on their calls!" btn_color="danger" btn_size="lg" btn_align="center" btn_link="url:http%3A%2F%2Fwww.prisonphone.co.uk%2Fplans%2F||"][/vc_cta][/vc_column][/vc_row]
Please follow and like us: