Police Smash Modern Day Slavery Ring
West Midlands' Police have broken up the largest ever modern day slavery ring in the UK. After a three-year investigation the members of the eight person gang who ran the lucrative racket were convicted on Friday with sentences up to 11 years.
Up to 400 victims were kept in appalling conditions and made to work for as little as 50p a day. The gang, led by a Polish criminal family earned millions by exploiting the homeless, ex prisoners, and alcoholics.
The victims were from Poland, trafficked over to the UK with the promise of housing and work. The victims were forced to workup to 13 hours a day on farms, recycling centres and poultry farms in the West Midlands. Their wages, if any, were stolen to "pay back transport fees" and they were forced to live in rat infested squalor.
Victims were often forced to use food banks and soup kitchens to find enough food. One of the charities was Hope for Justice which was instrumental in helping the police break the ring.
Miroslaw Lehmann, 38, one of the victims, said he would rather have been in a Polish prison than in the hands of this brutal gang. Lehmen said " 'I would say some homeless people here in the UK live better than I lived after I arrived over here. There was no heating, no secure windows, cold water, sleeping on the floor on some mattresses, covering yourself with your own clothing.'
Lehman and others were too scared to ask for payment, as beatings were commonplace. Lehman finally got free with the help of Hope for Justice who give out free dinners to the homeless.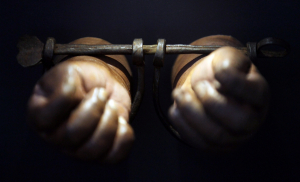 HMP Berwyn-Former Inmate Claims it Britain's Cushiest Jail
A former prisoner of Britain's largest jail speaks out, saying it is also the 'cushiest'. HMP Berwyn is no stranger to controversy and 'Christopher's' revelations add to its reputation as a 'soft' jail.
Christopher spent eleven months in HMP Berwyn for assault. He told ITV news he was shocked at the lack of discipline at the north Wales super prison. Christopher alleged drugs were easily available and it was being run like a youth club with party nights at the weekend.
HMP Berwyn opened in 2017, and the words 'prisoner' or 'inmate' were banned, 'men' was to be used instead. Cells are referred to as rooms. The men have laptops and phones in their rooms. It was to be a new type of prison. But two years on it suffers from excess drugs and violence as any other prison.
"If you want cocaine you can get cocaine if you want crack you can get crack if you want heroin you can get heroin, if you want cannabis you can get cannabis".
– CHRISTOPHER, FORMER INMATE AT BERWYN PRISON
Christopher adds that doors are always open, music was loud and there was a serious lack of control by inexperienced prison officers.
Ex-Police Officer Jailed for Abusing Boys Dies in Prison
–
Ian Jolly was an ex police officer abused young boys in Aberdeenshire over a twenty-year period in the 80s and 90s. He was finally convicted in March this year and was sentenced to 27 months in jail.
Another civil servant abusing those he was hired to protect.
Jolly, 72, was imprisoned at HMP Edinburgh, where he died this week.
The death has been reported to the Procurator Fiscal and A Fatal Accident Inquiry will be held in due course."
Outstanding Orison and Probation Officers Recognised
Here's a feel good story:
Prison officers often get a bad rap for being 'too inexperienced, too young, too forceful', but they have an incredibly hard job to do. These awards show there is some excellent work being done out there to try to turn lives around.
Officers from the Prison and probation services have been awarded for outstanding work in ceremonies this week. The annuals awards celebrate the vast talent among HMPPS staff, recognising achievements in areas such as diversity, reducing reoffending and public safety.
Officers have been commended for work that goes above and beyond expectations to help prisoners and offenders move on with their lives. A team of offices was recognised for their innovative work to develop a support group for young black offenders with a history of violence and childhood trauma among many other rewards.
Prisons and Probation Minister Robert Buckland said:
"Our hardworking Prison and Probation staff provide tremendous support in some of the most challenging environments.
I'm delighted to hear so many inspiring stories of staff going above and beyond their duty to make a real difference to offenders' lives.
I congratulate all of this years' winners and nominees for their outstanding work".
Robber who attacked Cheltenham shopkeeper with a knife is told to expect prison sentence
Anthony Smith of Morton-in-March ran into a shop in Cheltenham armed with a knife on May 5 this year.
He attacked the shopkeeper, and the pair grappled for some time but luckily no injuries were sustained. The fight was broken up when security officers arrived and separated the pair.
The incident was caught in CCTV and prosecuting barrister Janine Wood said: "It was a nasty incident". The assailant has learning difficulties and the defending barrister referred to "underlying issues' being present in the incident.
Smith pleaded guilty to assault with intent to rob and to possessing a bladed article – a knife – in a public place.
The judge said that the attack was prolonged and a significant jail sentence was imminent, it was just to be decided how long, any attack with a knife is considered a very serious offence.
Please follow and like us: