[vc_row][vc_column][vc_column_text]
Coldingley Prison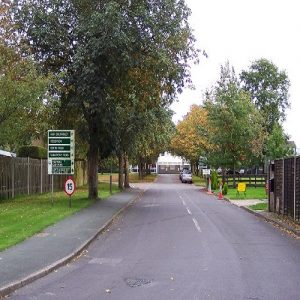 This year, the government announced that there would be six prisons piloting their prison reform scheme. As part of what has been described as 'the biggest shake-up since Victorian times', these prisons will trial new systems – with the intention of boosting rehabilitation and reducing levels of reoffending.
In this latest series, we'll be reviewing all the prisons taking part in the scheme – examining their past performance and their suitability for reform. We'll also re-assess them in the future, to ascertain how successful the new programme has been.
HMP Coldingley
HMP Coldingley is the third prison that we'll be looking at in this series. It initially opened as a category B prison in 1969, and in 1993, was re-designated as a category C establishment for adult males. With an operational capacity of 513, it's a medium-sized prison; and is situated in Bisley, Surrey.
In recent years, Coldingley Prison has been identified as a problematic establishment. A 2015 independent report reported problems with understaffing, drugs and illegal items, such as mobile phones. A BBC report commented on a 'serious incident' involving the vandalism of CCTV equipment, and pressure on remaining staff to work overtime on a regular basis. Additionally, poor facilities meant inmates had to occasionally 'slop-out' – a humiliating and unpleasant task – and in 2016, a prisoner was murdered within the prison.
Is Coldingley Prison an Appropriate Choice?
It would seem that the government is attempting to introduce a broad range of prisons as part of its pilot schemes. Whereas other prisons involved, such as HMP Kirklevington Grange, generally perform very well, it's also useful to have struggling prisons involved in the scheme too – to get the 'real picture' as to whether the reform will work or not.
As a result, HMP Coldingley seems to be a good choice for the pilot scheme.
How Will the Changes Affect HMP Coldingley?
The proposed changes focus on improving rehabilitation within prisons, and in turn, reducing the rate of reoffending. In particular, governors will have greater autonomy and inmates will have more access to education.
Here's some details about how the changes will impact Coldingley Prison:
Greater freedom for governors. Jo Sims, the governor of HMP Coldingley, will have far greater control over how the budget is spent within the prison, with far less direct involvement from the government. This will enable the prison to react to the specific needs of its inmates – rather than simply following a predefined set of directives.
Innovative approach. By giving more freedom to the prison and its staff, Coldingley will be able to explore new, innovative approaches – rather than relying on the established 'tried-and-tested' techniques of the past. Although some tactics may not be successful, others may serve to improve the system – which is exactly the result the government is hoping for.
League tables. Coldingley's performance will be closely monitored, and results will be displayed in a league table – which is accessible to the public. This will certainly increase pressure on the prison – but hopefully, if the reform goes well, the league tables will only serve to highlight how standards are improving.
What Does the Future Hold for HMP Coldingley?
Certainly, Coldingley Prison needs to experience considerable improvement – and hopefully this is exactly what's needed. Only time will tell whether or not the proposed measures make any difference or not.
References:
https://www.gov.uk/government/news/biggest-shake-up-of-prison-system-announced-as-part-of-queens-speech
https://www.justice.gov.uk/contacts/prison-finder/coldingley
http://www.imb.org.uk/wp-content/uploads/2015/09/Coldingley-report-2014-2015.pdf
http://www.bbc.co.uk/news/uk-england-surrey-34167706
http://www.bbc.co.uk/news/uk-35947251[/vc_column_text][vc_cta h2="Save Any Inmate At HMP Coldingley 75% on their calls" h4="Prison Phone offers phone tariffs that reduce the costs of calls from Coldingley prison by up to 75%! This enables prisoners to get the support and love that they are missing from home, while reducing costs for the inmate. Find out more below." txt_align="center" add_button="bottom" btn_title="Click Here To Find Out More" btn_color="danger" btn_size="lg" btn_align="center" css_animation="appear" btn_link="url:http%3A%2F%2Fwww.prisonphone.co.uk%2Fplans%2F||" btn_button_block="true"][/vc_cta][/vc_column][/vc_row][vc_row][vc_column][/vc_column][/vc_row]
Please follow and like us: