It's been an interesting year for UK prisons. In the space of just 12 months we've seen two Justice Ministers, each focusing firmly on reforming a 'failing' system. The country has also witnessed a dramatic rise in legal highs in prisons, not to mention escalating rates of self-harm, suicide and violence.
In this round-up, we'll review the key events of 2016, and what the future might hold for UK prisons.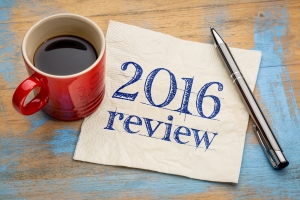 Poor Reports
At the start of the year, prisons such as HMP Olney were criticised for the prevalence of 'spice', a legal high, among inmates. Far harder to police than illegal drugs, they were proving to be worryingly dangerous, with inmates across the country suffering from seizures and even heart attacks after taking them.
Likewise, squalid conditions were also hitting the headlines. In January, HMP Humber suffered a serious infestation of rats, and other prisons, such as HMP Wormwood Scrubs and HMP Pentonville were also criticised for its poor living conditions.
Nick Hardwick Stands Down
In February, Nick Hardwick, a long-serving Chief Inspector of Prisons, officially stood down from his post. He commented to the media, "You shouldn't do this job for too long, because you get used to things you shouldn't get used to."
Only a few weeks later, David Cameron (then Prime Minister) stated that the prison system was 'scandalous' and that things needed to change fast.
Introducing Reform
Possibly one of the most significant developments of 2016 was the introduction of Michael Gove's (then Minister for Justice) Prison Reform Scheme. Gove announced that six prisons would take part in the pilot scheme, including HMP Holme House, HMP Kirklevington, HMP Ranby, HMP Coldingly, HMP High Down and HMP Wandsworth.
The scheme sought to encourage more meaningful rehabilitation (and reduce rates of reoffending). It promised to give prison governors far more autonomy, reducing government interference, and also proposed the introduction of a league table, ranking prison performance.
All Change
In June, the UK was rocked by the results of the EU Referendum. David Cameron resigned as Prime Minister, and in July, Theresa May took his place. She replaced Michael Gove with Liz Truss, leaving many wondering what the implications were for the Prison Reform Scheme.
For several months, Truss was relatively silent on the matter of reform. However, in November, she finally announced her plans for reform, which included greater autonomy for prison governors, plus the recruitment of 2,500 new prison staff, in a bid to better manage the UK's growing prison population. Truss also announced that she would be starting to close 'old, dilapidated prisons and replacing them with modern facilities', to address the poor living conditions and issues with overcrowding.
What Does the Future Hold?
At present, the country is still gripped by uncertainty. Brexit continues to divide politicians and citizens alike, and this has had a knock-on effect on the prison system. However, now that Truss has outlined a more explicit plan, the hope is that the main issues will be addressed in 2017 – with a focus on improving prison conditions, and providing rehabilitation.
What we do know is that our ambitions to keep prisoners and families connected will continue to grow throughout 2017 with new ideas and ways to help inmates maintain all important family ties to aid in the rehabilitation process.
Please follow and like us: