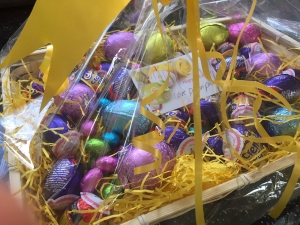 This Easter, Prison Phone has sent seasonal Easter baskets to prison visit centres, so children can enjoy an Easter egg while they're visiting their mum or dad – or take one home with them.
The team here at Prison Phone HQ have hand made these wonderful baskets that we hope will look great in the visit centres.
We have sent baskets across the UK with some going to the new prison in Wrexham HMP Berwyn, HMP Lincoln, HMP wakefield,  High Down prison, Bristol prison and HMP Sudbury in Ashbourne, Derbyshire just to name a few!
Easter is a tough time for prisoners and their loved ones. Around 200,000 children in England and Wales have a parent in prison, and the impact on their lives is clear; kids with a parent in jail are more likely to have mental health issues, and experience difficulties with their behaviour and academic performance at school. It's crucial that they have regular contact with their parent – and for that to happen, prisons must fulfil their responsibility to enable inmates to have visits, write and receive letters and make regular phone calls.
If your loved one is in prison, here are some important things you should know about how to stay in touch:
Visits
Prisoners usually have to fill out a Visiting Order before their friends and family can visit. Whether or not an inmate's children can visit is sometimes decided by prison staff, who will base their decision on various factors, including the inmate's behaviour in prison and the nature of their offence. Inmates are usually allowed three one-hour visits per week, and up to three adults can accompany a child for each visit. Teenagers are classified as adults or children, depending on the prison.
Help with Travel Costs
 If you're having trouble paying for travel to visit someone in prison, you may be able to get help. The Assisted Prison Visits Scheme helps people who are over the age of 18, claiming benefits or on a low wage.
Visiting a Relative in Another Prison
Inmates are entitled to visit a close relative who is in another prison. Both inmates will have to fill out a Visiting Order – and it can take some time for arrangements to be made.
Sending Letters
Inmates and their families should be aware that all letters sent to prison will be opened by staff, to check that envelopes are free of contraband. Prison staff only occasionally read letters to inmates, and the number of letters inmates can receive is usually unlimited.
Prison Phone Calls
Inmates are usually given a form on which to write a list of telephone numbers they may want to call. Most prisoners' lists include family members, friends and a solicitor. Inmates generally have to have their list approved by staff before they can start making calls – although this varies depending on the prison's security category. Inmates are usually required to sign a form to say they agree to various rules on phone-use before they can call their loved ones. Prisoners can ask to use a more private phone if they want to speak to someone urgently. To find out about how to reduce the cost of keeping regular phone contact with a loved one in prison, visit the Prison Phone website.
References:
www.prisonreformtrust.org.uk/…/PIB%20extract%20-%20Keeping%20in%20touch%
Please follow and like us: