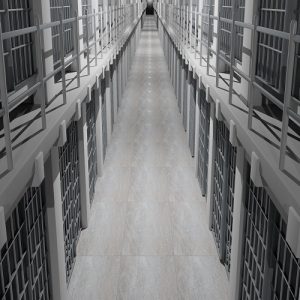 According to a recent report, work is well underway on Wrexham's new super-prison HMP Berwyn; and the establishment is on track to be opened in February 2017.
In this article, we'll examine the prison itself, the proposed plans, and what people have said about it.
HMP Berwyn – Wrexham's Super-Prison
Britain's biggest prison is currently HMP Oakwood, which can hold 1,600 inmates. However, HMP Berwyn will dwarf this; with an operational capacity of 2,106. This makes it the largest prison not only in the UK, but one of the biggest in Europe.
Once built, Berwyn prison will be a category C establishment, and will hold adult male offenders. It's situated at the Wrexham Industrial Estate, just outside Wrexham, and will be run by the government, though 34% of its services will be outsourced to private companies. The name of the prison, which was selected by newly appointed governor, Russ Trent, was inspired by a Welsh mountain range.
Rehabilitation
According to Trent, the prison will focus on rehabilitation – with a view to reducing levels of reoffending.
At interview, he commented: "It's an honour helping plan the opening of Berwyn. My personal belief on how to hold 2,106 men is to offer them future orientation and hope. I realise as a victim of crime, we want the offender to be punished, but as a society, we want them to be rehabilitated too."
Russ Trent – HMP Brinsford
We examined Trent's performance as governor at HMP Brinsford, to see if we could get an idea of how he would approach the task of running the UK's largest prison. Although Brinsford prison has come under heavy criticism in recent years, its most up-to-date inspection suggests that standards have improved significantly.
Relations between staff and inmates were much better, and overall living conditions had also improved by a considerable margin. However, the report did note that although improvements in purposeful activity had been made, they were 'less well advanced'. Although there were 'adequate activity places', attendance was poor, and only 50% of inmates attended education sessions.
However, it's important to note that Brinsford Prison is one of the most challenging establishments in the country – and that any improvement is better than none.
What Others Think About HMP Berwyn
Back in 2014, Sadiq Khan, then Shadow Minister for Justice, voiced his opinion on super-prisons; stating that: "all talk of work in prisons and a rehabilitation revolution have been quietly forgotten, replaced by a desire to pack as many prisoners as possible into 'super-sized' jails – the type of warehousing David Cameron used to oppose."
Likewise, Frances Crook, director of the Howard League for Penal Reform, stated that building Berwyn Prison would be a 'titanic mistake'.
However, ex-Prime Minister David Cameron highlighted the number of new jobs created by the establishment, and the benefits it would have to the local community, not to mention the extra spaces created for inmates.
Rehabilitation at Wrexham's Super-Prison?
At present, it's too early to tell whether rehabilitation will be at the heart of HMP Berwyn's operations. Hopefully Russ Trent will deliver on his promises – and this Wrexham prison will lead the way, encouraging other UK prisons to adopt a similar focus on rehabilitation.
References:
http://www.dailypost.co.uk/news/north-wales-news/work-wrexham-super-prison-enters-11605815
http://www.bbc.co.uk/news/uk-wales-north-east-wales-29502522
https://en.m.wikipedia.org/wiki/HM_Prison_Berwyn
https://www.justiceinspectorates.gov.uk/hmiprisons/wp-content/uploads/sites/4/2015/07/Brinsford-web-2015.pdf
Please follow and like us: