Young offenders in the UK are regularly subjected to "inhuman and degrading treatment", according to Europe's anti-torture committee. In a damning report, young offender institutions (YOIs) are criticised for breaching the European Convention on Human Rights by keeping inmates locked up for nearly 24 hours at a time. Meanwhile, justice secretary Liz Truss has admitted that a teenager who was kept in solitary confinement for four months was the victim of procedural "failings", highlighting the urgent need for the treatment of young offenders to be reformed.
Almost 24 Hours in Their Cells
In its alarming new report, the European Committee for the Prevention of Torture highlights "deep concerns" about overcrowding, violence and the use of solitary confinement in YOIs. The committee found that young offenders were regularly held in conditions "akin to solitary confinement" for as long as 80 consecutive days.
Inmates at Cookham Wood YOI were found to be spending an average of five hours out of their cells, while some offenders had 'do not unlock' stickers placed on their doors and spent as little as half an hour out of their cells per day. According to the report, the conditions amount to "inhuman and degrading treatment" – which is prohibited by the European Convention on Human Rights.
The committee's vice president Mark Kelly said some inmates at Cookham Wood had been banned from education and activities, and were spending almost 24 hours in their cells.
"This points to the very impoverished regimes that young people have in a lot of the prisons," he said.
"There were just over 40 juveniles in Cookham Wood who for various reasons were not taking part in education or activities of any kind, and they actually had pink signs on their door saying 'do not unlock'."
"If you had one of these signs, it meant that you wouldn't be allowed out at all except half an hour for a period of exercise, which you'd take on your own, and for meal times, for which you were accompanied by staff to pick up your food and then you would eat it on your own in your cell."
'Alarmingly High' Levels of Violence
The UK prison system has been advised to reform its YOI rules to fall in line with the growing international trend to promote
the abolition of solitary confinement as punishment – and to make sure that inmates participate in daily education and activities.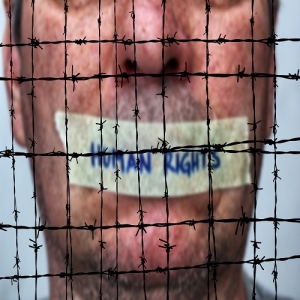 The report highlights "alarmingly high" levels of violence at both YOIs and adult prisons, and said none of the facilities it assessed were safe for inmates or staff. Burns from scalding water, shank wounds, broken teeth and noses and head wounds were all recorded, with many incidents requiring hospitalisation and one resulting in death.
John Wadham, chair of the UK's National Preventative Mechanism, said: "This report is an important reminder that there is much to be done to improve the conditions in which people are held and how they are treated.
"Governments and detention authorities need to involve our members in their work to take forward these recommendations and to improve the conditions in our prisons, hospitals and detention centres.
"I am particularly concerned by their finding that a number of children held in one young offender institution spent 23.5 hours a day locked in their cells. I agree with the CPT that such conditions amount to inhuman and degrading treatment."
Liz Truss Admits Feltham YOI's Rules Were Breached
Meanwhile, at an ongoing High Court hearing, justice minister Liz Truss has admitted that a Feltham YOI inmate who was held in solitary confinement for four months was the victim of procedural "failings" – and that the facility's rules had been breached. But she is contesting claims from the boy's mother that his treatment has been inhumane or degrading. Truss' lawyer said the boy had a history of assaulting staff and had been isolated because of his "challenging" behaviour.
The court heard that the boy's "removal from association" breached Article 8 of the European Convention on Human Rights, and that he had not received the legally required 15 hours of education per week.
Responding to the report by the European Committee for the Prevention of Torture, a Ministry of Justice spokesperson said: "We have always been clear that we need to make our prisons safe so we offenders can turn their lives around and live as law-abiding citizens. That is why we have taken immediate action to stabilise the estate by tackling the issues that undermine security, and are investing £100 million annually to boost the frontline by 2,500 officers."
References
http://www.independent.co.uk/news/uk/home-news/uk-prisons-young-offenders-locked-up-24-hours-european-committee-for-the-prevention-of-torture-a7690626.html
http://www.bbc.co.uk/news/uk-39723563
Please follow and like us: