UK Prison History Uncovered: HMP Brixton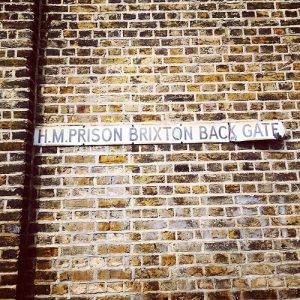 HMP Brixton, London's oldest prison, has a fascinating history – and over the years, has housed some of the UK's most well-known criminals, such as the Kray twins and Jimmy Moody. Famous for its use of the treadmill, not to mention its brutal treatment of inmates, it's unsurprising that Brixton Prison still continues to intrigue and horrify in equal measures.
HMP Brixton – A Village Prison?
When Brixton Prison was first constructed, back in 1820, Brixton itself was actually a small village on the outskirts of London. As a result, the prison was initially called The Surrey House of Correction, and originally only held 175 inmates.
However, the spiralling problem of crime in neighbouring London meant that Brixton Prison soon became overcrowded; mostly with minor offenders, both men and women. The youngest prisoners at that time were only 6 years old.
Introducing the Treadmill
Brixton Prison gained notoriety by being the first prison in the UK to start using the treadmill. The premise was that prisoners would pace its revolving steps for up to 10 hours a day, powering a flour-mill which was used to make their bread.
The fiendish device caught the imagination of the general public, throwing HMP Brixton into the spotlight; and even royalty came to visit the prison to see the treadmills for themselves. In addition to the brutal punishment, inmates were also subject to one of the most infamously harsh governors in the UK prison system – John Green; who apparently had a fondness for whipping small children. Thankfully, he was eventually dismissed for his violent behaviour and his 'addiction' to swearing.
Becoming a Female Prison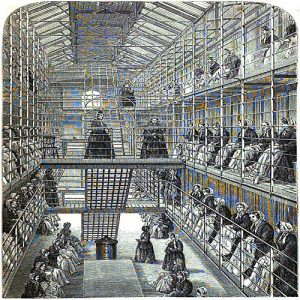 Halfway through the 19th century, HMP Brixton achieved another first – becoming the first all-female prison in the UK. Perhaps unusually for the era, a female was put in charge of Brixton – Emma Martin. Unlike her aggressive predecessor, Martin was regarded as relatively gentle and fair to the inmates.
Thirty or so years later, HMP Brixton had changed purpose once more, becoming a military prison. However, by the 1900s, it had become a remand prison for the whole of London.
Famous Inmates in Brixton Prison
Brixton Prison has had its fair share of famous inmates. The philosopher Bertrand Russell was imprisoned there on two separate occasions, and the infamous Kray twins were also incarcerated within its walls. One of Brixton Prison's most famous inmates was Mick Jagger, who was sentenced on drugs-related charges.
HMP Brixton Today
Like many prisons across the UK, Brixton has recently come under criticism for its poor conditions, and high levels of violence and drug-taking. However, in a more recent report, it was found that standards had improved slightly, though overcrowding and offender management was still a serious concern.
In 2012, the prison provided the backdrop for Gordon Ramsey's TV series Gordon Behind Bars. During the chef's time there, he helped set up 'Bad Boys Bakery' with 12 inmates, which still supplies 200 coffee shops with cake.
In 2014, Brixton Prison also opened up The Clink – a fine dining restaurant where all food is prepared and served by inmates. It's fully open to the public and supports the rehabilitation of prisoners.
References:
https://en.wikipedia.org/wiki/HM_Prison_Brixton
http://www.brixtonbuzz.com/2014/03/a-brief-history-of-hmp-brixton-londons-oldest-prison-by-chris-impey/
Please follow and like us: