What Is the First Night in a Women's Prisons Really Like? Here's an Insider's View
Recently, we featured a post detailing what the first night of a prison sentence is really like. However, the article focused entirely on male prisons, and didn't cover women's prisons at all.
This is hardly surprising. After all, going by the Howard League for Penal Reform's latest figures, there are currently 85,993 people in prisons and YOI in the UK. The male population count for 82,064 of them, the females, just 3,929. In short, the vast majority of this country's prisoners are male. However, we feel it only fair to provide an outline of what female inmates experience on their first night in prison too. As you might expect, the experience is somewhat different.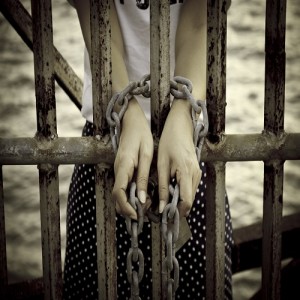 Inside Holloway… is it Like the TV Programme?
We were recently fortunate enough to speak to Alison, an ex-inmate who had been incarcerated in both HMP Bronzefield and Holloway – two female prisons in the UK. Of course, the reputation of HMP Holloway is formidable, and recently, interest has surged in the prison, thanks largely to Channel 5's interesting documentary on the prison and its more famous inmates. (The documentary named 'Inside Holloway' can be seen here)
But what is it really like, when you first set foot in a women's prison? Here's what we learnt.
Arriving at the Prison
We were informed that initially, women are taken to a local prison (such as Bronzefield or Holloway prison) rather than one of the longer term prisons, as this is where most will serve the first part of their sentence. It's also where you're incarcerated if you're on remand and awaiting trial.
Alison told us that the journey to the prison is often very uncomfortable. The vehicles, referred to by prisoners as 'sweatboxes' come with drivers who 'usually drive like lunatics, so you will be violently thrown around your cubicle.' It's common to be sick on the journey, though you can expect to be offered a sandwich and a drink by staff.
Upon arrival, you will be interviewed by a volunteer or prison officer. If you're feeling depressed, it's important to raise it at this point, as they will then commence the ACCT process, which is designed to provide the inmate with support. You'll also get a five minute phone call, to let someone know where you are.
Medical History
In the initial registration process, you'll also see a nurse and have the chance to discuss your medical history. We were told that you should 'tell them everything, because prison healthcare is notoriously bad, and if you have problems, keep telling them.' It's also vital to tell them if you have a life-threatening condition, though you won't be given any medication at this point, because you won't be permitted to see a GP until the following day at the earliest.
You'll then have your photo taken for your ID card. Our inmate emphasised the importance of not losing or breaking the card, as 'you will need it every day for just about everything and there's a hefty charge to replace it.'
You'll also have most of your property taken away from you, which will be stored at reception until you leave. You might be issued with prison clothing, depending on the prison you're at.
Thankfully, women are no longer automatically strip-searched, but inmates can expect to be patted down. You'll also have to sit on a 'boss chair' which checks to see whether or not you're carrying any contraband in any orifice, and you'll also be checked over with a metal detector.
Ten Tips for Surviving Women's Prison
Alison had some useful tips about getting through your prison sentence.
Eat the food. We were told that the 'food is disgusting', but that you should 'eat it anyway because it may be a long time to the next meal.'
Avoid prison soap. Prison soap is notoriously abrasive, and it's advisable, if you can afford it, to buy decent toiletries on canteen.
Expect to share rooms. Some prisons, such as HMP Bronzefield, have single rooms. However, prisons like Holloway have dormitories, so you can expect to share.
Disrupted sleep. Officers regularly check on inmates during the night. Some officers will be considerate and not make a noise, others, Alison says, can be 'deliberately noisy', so it's possible you'll have a disturbed night.
Expect rudeness. Alison informed us that in her opinion officers in Holloway are often 'rude and unhelpful', though there are a few who are great. She also mentioned that they are 'all over-worked and have too many demands on their time', and advises new inmates to 'try wing reps, landing reps or induction reps' if they need help with anything.
Listen in induction. You can expect to spend three days on induction. Expect the sessions to be 'boring and rather patronising', but 'useful information' is provided, so it's a good idea to listen.
Stand up for yourself. We were told that it's the 'ones who shout loudest in prison that get the most attention', and the advice given is to 'stand up for yourself politely and firmly, and don't get fobbed off'.
Watch out for scam artists. If you're initially approached by very friendly inmates, be warned. Some are scammers and will try to 'rob you of everything'. Rather than becoming too chummy with anyone, 'take your time figuring out the politics and who is who', and you are 'more likely to find decent people'.
Don't loan anything. According to Alison, if you loan anything to another prisoner, don't expect to see it again. Likewise, she advises not to trade, give things to people or get in debt – as there are 'consequences'.
Be prepared for boredom. She emphasises that 'prison is not exciting, it is boring. Very, very boring.' To help pass the time, she recommends 'if you can't read, learn. If you don't read, learn to love it, as it will help fight the boredom. Write letters to friends and family if you can bear to, as it will help emotionally.'
References:
http://www.howardleague.org/weekly-prison-watch/
Please follow and like us: