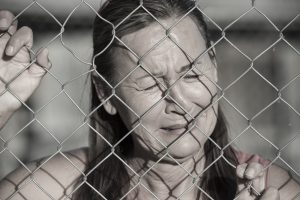 Despite making up only a small proportion of the total UK prison population, imprisoned women account for a disproportionately high number of suicides, according to recent figures.
The latest statistics, released by the government, highlight the extent of the problem. The question is – why is this happening, and what can be done to address the issue?
Here's more on the subject.
Female Suicides in UK Prisons
According to the latest figures released by the Ministry of Justice, rates of female deaths classed as 'self-inflicted' in prison have risen by 28% in the last year. Eleven suicides were recorded in the same time period, a substantial increase on the one death recorded the previous year.
The Howard League for Penal Reform identified that women accounted for 10% of all suicide cases, which is disproportionately high, given they only comprise 5% of the total UK prison population.
Likewise, cases of self-harm have increased by 27% from March 2015 to March 2016 – which meant there was one incident of self-harm every 15 minutes. Further statistics from The Lancet show that half of all self-harm incidents were carried out by women.
What's Causing the Problem?
A number of factors are contributing to the rise in self-harm and suicide among female prisoners. Budget cuts have forced prison governors to reduce staff and facilities, which has impacted on the quality of care offered to inmates; particularly those with existing mental health issues. In particular, the Ministry of Justice stated that HMP Bristol, HMP Doncaster, HMP Liverpool, HMP Wormwood Scrubs and others were 'of serious concern' in recent inspection reports.
In the past, organisations such as the Prison Reform Trust have highlighted the fact that as many as 30% of all female inmates enter prison with existing mental health conditions; and suggest that actually, they need appropriate health care and support, not incarceration.
Is There a Solution?
Ultimately, prisons are not equipped to cope with inmates with mental health problems, and nor should they be expected to. Helping an individual with depression, or any other form of mental health condition, requires expertise and understanding – which takes years of specialist training. Stretched prison guards are simply unable to offer the level of support that vulnerable prisoners require. Some prisons have specialist mental health units – but these are few and far between.
However, a better support system could be created in prisons, particularly with regards to family contact. In prison, without regular contact with parents, partners and children, women can become swiftly isolated and alienated from the outside world.
With the present system, inmates struggle to maintain contact with loved ones. Communal phones are often broken, then left unrepaired for substantial periods of time. When they are functional, inmates find it difficult to get through to family members, especially when trying to call a landline – as often, relatives are out. Calling a mobile is prohibitively expensive, which makes the whole process even harder.
Staying in Touch in Prison
We believe that keeping inmates in contact with family and friends is vital – and in many cases, a significant factor in the rehabilitation process. If you've got a family member in prison, and you'd like to help them stay in touch with you, our low-price prison tariffs help you to achieve this. You can find out more here.
References:
http://www.independent.co.uk/news/uk/home-news/women-prison-suicide-death-rate-soars-charity-self-harm-jail-a7160321.html
http://www.bbc.co.uk/news/health-25366160
http://www.prisonreformtrust.org.uk/ProjectsResearch/Mentalhealth
Please follow and like us: