Career Support in UK Prisons – What's On Offer?
You've served your time in prison. Now what? For many ex-inmates, this is a serious issue. Having a criminal record makes it far harder to find employment – and the unappealing alternatives are going on benefits or returning to a life of crime.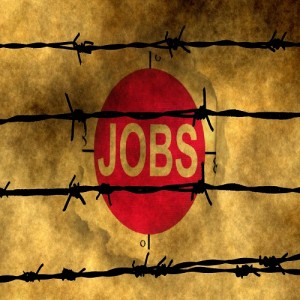 Getting a Job After Prison – Current Situation
There are educational courses available in most UK prisons. Often, these will focus on practical skills, like operating an industrial laundry or catering. On occasion, recognised qualifications are on offer, including GCSEs and NVQs; and some prisons even run job clubs, specifically to help inmates with employment on release.
In addition to this, in category D prisons, inmates are permitted to attend job interviews whilst still incarcerated, which provides a valuable 'head-start' when finding the right career.
However, there are several issues that both UK prisons and inmates are contending with. Many prisons are insufficiently funded, which results in cuts to the courses available. This also impacts on the quality of the teaching on offer. Also, the fact is that qualifications alone won't make an ex-inmate employable – and that career support, not to mention opportunities after release are often insufficient.
What the Government Claim
Employment after prison is an issue that the government have addressed. In 2012, there was a major overhaul of the support system for inmates after prison, with the government's Work Programme designed to help ex-prisoners find employment more easily.
The government clearly recognised that lack of employment was linked directly to increased risk of reoffending. Crispin Blunt, then Prisons Minister, said: "Referring offenders to the Work Programme straight from custody will ensure that they get help and support to find work as they leave custody, when they are currently most likely to start re-offending."
Is the Current System Working?
Rates of reoffending continue to rise, which indicates that thus far, the Work Programme has enjoyed less success than the government might have hoped for. Despite the efforts of the government, ex-inmates are still finding it difficult to find employment.
Potentially, the problem doesn't lie completely with the support on offer, but the attitudes of employers. All ex-prisoners, by law, are required to declare that they have a criminal record when applying for a job. For jobs working with those who are young, disabled or vulnerable, ex-inmates must declare all crimes, regardless of how long ago they were committed.
As a result, it's likely that employers are deliberately selecting candidates without a criminal record – leaving those with one in an almost impossible position; trying to find work with companies that simply don't want to employ them.
90% of Prisoners Want to Work
According to a survey carried out by the BITC, inmates actively want to find work after their prison sentence – with nine in ten indicating that this was important to them. However, two-thirds of inmates wouldn't want to apply for a job that asked them to declare their criminal record, for fear of automatic rejection.
Essentially, this means that inmates can never be free of their past mistakes. In light of this, it's not surprising that many return to crime. After all – what other options are available to them?
Finding Help with Employment After Prison
Thankfully, there are other options – and ways that prisoners can improve their chances of employment. The Hardman Trust offer awards to individuals in specific prisons in the country, including HMP Humber, HMP Leyhill, HMP Holloway, HMP Ford and many more. The cash prize can be used to help achieve career goals, and boost the likelihood of finding a job.
Nacro's website also has lots of useful information to support inmates after release, and the Citizen's Advice Bureaux is also on hand to offer help.
Of course, it's also important to remember that family and friends can offer valuable advice and support too. If you're still in prison, but find it difficult to stay in touch with loved ones, our cheap prison phone tariffs make it a lot easier.
References:
https://www.gov.uk/life-in-prison/education-and-work-in-prison
http://www.justice.gov.uk/offenders/before-after-release/resettlement
https://www.gov.uk/government/news/government-launches-employment-support-for-prisoners
https://www.citizensadvice.org.uk/Documents/Advice%20factsheets/Prisoners/p-leaving-prison.pdf
http://www.bitc.org.uk/our-resources/report/finding-work-after-prison-what-prisoners-think-about-tick-box
http://www.theguardian.com/education/2012/jan/30/prison-education-failures
Please follow and like us: