Private Prisons Series: No. 2 – Examining Sodexo
The first post in this series focused on Serco, one of the most prominent companies currently managing private prisons in the UK. Serco gained a certain notoriety in light of their 'tagging scandal'; when they admitted responsibility for overcharging the British government as much as £50million for prisoner tags.
In contrast, Sodexo certainly hasn't suffered the far-reaching media backlash that Serco has, but the company's management of their private prisons has not been without its controversy.
Sodexo: A French Food and Facilities Management Company?
Originally, Sodexo started life in 1966 as a food and facilities management corporation in Paris. These days, the company has 413,000 employees in 80 different countries across the world, with over 35,000 employees in the UK alone. In 2009, it was estimated that 8% of its revenue was generated from the UK.
In 2011, a subsidiary of the company was formed; Sodexo Justice Services; which designs, builds and manages prisons within the UK. Its current prison contracts include: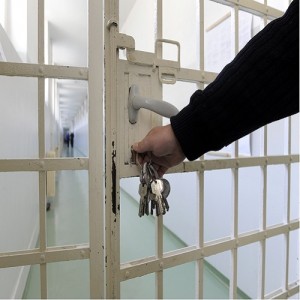 Sodexo's Approach to Prison Management
Sodexo have been offering justice-related services since 1993, and have considerable experience in the industry. In their mission statement online, they indicate that they are focused on 'changing lives for the better'; working with clients and partners to 'protect the public', reducing levels of crime by 'challenging offending behaviour' and offering 'individuals the opportunity to change'.
Additionally, Sodexo has been open in its aim to promote equality within the workplace. In 2014, the company introduced a 50:50 target for the proportion of males to females shortlisted for their senior executive positions. It also claims to be committed to offering age equality within its workforce.
Sodexo's Performance Record
Although the company's equality targets are undeniably admirable, Sodexo's prisons have not been without their share of controversy.
Sodexo's most recent acquisition, HMP Northumberland, recently came under scrutiny when the company announced that they would be making significant staff cuts in a bid to reduce costs. 200 employees were laid off, leading a spokesperson of the Prison Officer's Association to comment that the understaffing could lead to 'riot and someone escaping – that's the worst case scenario'.
Indeed, after losing a third of its staff, HMP Northumberland saw a significant rise in assaults and disturbances, leading many to term the prison a 'powder keg'. An inspection of the establishment found that many of the prisoners felt concerned for their personal safety. Like other prisons in the country, Northumberland also has a problem with the circulation of an illegal drug termed 'spice', which when taken, can cause violent behaviour. The Howard League for Penal Reform called the prison a 'shambles'; and in an ironic twist, considering Sodexo's history as a catering company, prisoners nearly rioted over the poor food on offer.
Further incidents have occurred in other Sodexo-run prisons. In 2013, a female inmate at HMP Peterborough, who was serving 10 months for a shoplifting offence, was forced to clean up after herself after suffering a miscarriage. Although a nurse was present at the miscarriage, the prisoner was left alone with the foetus afterwards. It later emerged that she was suffering from mental health issues.
However, in spite of these alarming occurrences, it is important to note that many of Sodexo's prisons have been awarded the British Safety Council Sword of Honour; which is given to companies who demonstrate excellence in health and safety management. Sodexo have also taken on more staff at HMP Northumberland, though critics have noted that these new members of staff are often young or inexperienced.
Coming Up… Looking at G4S
In the next post, we'll be focusing on the last of the UK's major private prison management companies; G4S, a corporation that have also come under considerable scrutiny in recent years.
* http://en.wikipedia.org/wiki/Sodexo
* http://en.wikipedia.org/wiki/Sodexo_Justice_Services
* http://uk.sodexo.com/uken/services/on-site/justice-services/vision-mission.aspx
* http://www.recruiter.co.uk/news/2014/06/sodexo-aims-for-50-women/
* http://costsectorcatering.co.uk/services-giant-sodexo-promotes-generational-awareness-workplace
* http://www.bbc.co.uk/news/uk-england-tyne-25157280
* http://www.bbc.co.uk/news/uk-england-tyne-30887279
* http://www.bbc.co.uk/news/uk-england-tyne-30993333
* http://www.independent.co.uk/news/uk/crime/woman-who-miscarried-in-private-prison-made-to-clean-up-after-herself-court-told-9002657.html
* http://www.tomorrowsfm.com/fm-news–666.html
Please follow and like us: