It's important for prisoners to stay in touch with their loved ones. Regular contact with a close friend, family member or partner provides support, motivation and a positive tie to the outside world. Caring, stable relationships have also been directly linked to lower rates of offending – so facilitating prisoners' communication with people in the community benefits everyone.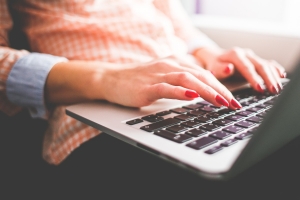 People serving prison sentences are entitled to phone calls (We can help reduce the cost of these here) , letters and visits. Prisoners aren't allowed to use social media sites such as Facebook or Twitter or have private email accounts, but many jails offer the Email a Prisoner service, allowing anyone to send a message which staff print out and give to the recipient. Available to use from any device and anywhere in the world, it is a valuable tool for prisoners to maintain close relationships with people outside jail.
How Does Email-A-Prisoner Work?
To email someone in prison, you will need to create an account on the Email a Prisoner website. It only takes a few minutes to sign up, then you can write your message, enter the details of the recipient and hit 'send', at a cost of 40p per email (You must pre-pay this in £5 "top-ups"). Your message will then be safely and securely delivered to the prison of your choice. A member of staff will receive your message, print it out and hand it to the inmate. Some prisons also allow the recipient to write a reply which is sent back to you at an extra cost of 25p.
Who Emails Prisoners?
It's not only prisoners' close friends, family and partners who send them emails. The service is also used by various organisations, including probation officers, charities, solicitors and social services. Unlock, a small charity which provides advice on overcoming criminal convictions, regularly communicates with people in prison by email, while users at Thames Valley Probation have praised the service as a simple, efficient way to contact inmates.
Helping Inmates to Maintain Family Ties
Since Email a Prisoner was launched in 2006, it has been made available in 98% of secure establishments, covering all prison categories. It is now an important tool for inmates to maintain their family ties, and is widely considered secure, efficient and valuable by prison staff.
A spokesperson for HMP Drake Hall said the service had made a "huge difference" to prisoners' lives', adding: "Prisoners that don't receive mail easily, for example, with busy families or those with overseas families are now able to communicate much more freely. They are noticing a huge difference and are very grateful to the service.
Where is the Service Available?
Email a Prisoner is available at jails across the UK, including HMP Birmingham, HMP Brixton, HMP Dartmoor, HMP Armley, HMP Liverpool, HMP Pentonville, HMP Wormwood Scrubs and many more. Most jails only offer the basic service of sending an email, although some also offer the Reply and Photo Attachment services. You can contact the prison directly for details on which services they offer, All Of the Prison's In The UK Are listed under our Prison Finder page from here you can get the contact information you need.
References
https://www.gov.uk/staying-in-touch-with-someone-in-prison/the-internet-and-social-media
https://www.emailaprisoner.com/index.cfm
Please follow and like us: