A Judge holds a hearing in a Maximum Security Belmarsh Prison, more cocaine is taken off the streets and a police officer is jailed for sexual assault.
Judge holds hearing in prison after rape accused refuses to attend court
Joseph McCann, 34, has refused to attend court to face numerous sexual abuse charges including tying up a mother and abusing her children.
McCann is charged with 21 offences against 8 alleged victims aged between 11 and 71. McCann allegedly committed the offences across five police areas in a two week period, between April 21-May 5.
During one alleged incident, McCann is said to have tied a woman up in her own home and committed sexual offences, including rape, against her 17-year-old daughter and son, 11.
Although Chief Magistrate Emma Arbuthnot authorised the use of force to bring him before her in what is believed to be an unprecedented move, she convened a private hearing inside HMP Belmarsh on Thursday.
Ms Arbuthnot said there had been a 'shortish' hearing in the prisons healthcare wing. She said McCann "turned his back on the court to begin with" and claimed the "officers stitched me up" before she remanded him in custody until a hearing at the Old Bailey on May 23.
The judge, plus lawyers, journalists, police officers and court staff, took taxis to Belmarsh, 15 miles away from Westminster Magistrates' Court.
The court crest was brought in an Argos carrier bag and placed on the conference table before Ms Arbuthnot told reporters: "I will be going into Belmarsh prison to see the defendant, Mr McCann. I will be accompanied by the prosecutor, defence counsel, and the clerk. We will then have a hearing in there".
Ms Arbuthnot did not elaborate on why she had taken this unusual decision to hold the hearing in a maximum-security prison, HMP Belmarsh.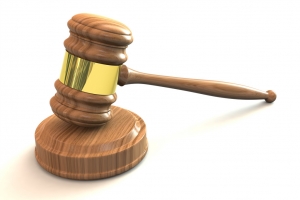 Three jailed Over Massive West Sussex Cocaine Conspiracy
Three men have been jailed for a total of 26 years for transporting Cocaine across West Sussex. The investigation began two years ago.
A joint operation by Sussex Police and the Metropolitan Police stopped two cars they thought were suspicious and found a street value of £130,00 worth of cocaine inside. The three occupants were arrested and were found to have a phone number in common: Aldo Oringa, 33, of Winchester, who had been travelling in convoy with the vehicles when stopped by the officers, but who was not arrested at the scene.
Oringa was subsequently arrested in October 2017. One kilo of high purity cocaine was found in his property. Oringa was charged with possession with intent to supply cocaine and remanded in custody during which time he paid another man to say the drugs discovered in the property belonged to him.
Oringa was given a 19-year prison sentence for possession with intent to supply cocaine, conspiracy to supply cocaine and for perverting the course of justice to run concurrently.
Seven Years Sentence for Serving Police Convicted of Sexual Offences
A serving police officer has been jailed for sexual offences.
Dominic Dunne, 27, from Romiley was sentenced to seven years in prison at Preston Combined Court on Monday 13 May 2019. Dunne was found guilty of sexual assault, voyeurism and taking indecent pictures of children.
PC Dunne was suspended from duty when his crimes were reported and he remains suspended while disciplinary proceedings are ongoing.
Dunne was found to have photos and videos on his phone of a girl aged 16-19. The images show him to be sexually assaulting the girl. The girl had not given consent for some of the pictures to be taken and at times had been unaware she was being photographed.
Dunne always denied responsibility and showed no remorse for the crimes. He has been put on the sex offenders' register for life and will also be subject to a sexual harm prevention order for life.
Courtroom Reveals Details of Violent Fight Between Inmates at HMP Swaleside
HMP Swaleside was described as 'challenging' and a threat to public safety" and was recently the scene of a scary fight between radicals and non-Muslims. Four inmates were stabbed in the afray. One inmate was slashed in the head and chest, another man suffered two stab wounds to his neck, and a third was left with a punctured lung.
The fight happened in March 2018 and was captured on CCTV. HMP Swaleside is a category B prison on the Isle of Sheppey and is home to 1,100 inmates. An unannounced inspection in December concluded one third of the prison staff were inexperienced having been employed for under a year. The prison suffers from high levels of violence.
Roger Aiken, 41, serving life for attempted murder, was stabbed in the head and chest during the fracas. Aiken had faced threats in several prisons from the same radical inmate and his associates since 2012. He has spent time in isolation for his own safety. In Swaleside the hostility continued with demands he convert to Islam. Aiken had been complaining since 2013 that a radical group was threatening him.
The court heard he is now considered 'safe from their reach' in HMP High Down Prison in Surrey. It is not clear why Aiken was being targeted by Islamic radicals to convert to Islam from Christianity.
Scottish Prisons Facing Overcrowding with 1000 extra Inmates
Scotland's prisons are facing an overcrowding crisis with nearly 1000 more prisoners than cells. There are nearly 8,500 prisoners in Scotland's jails, the highest in decades.
Although fewer criminals in Scotland are being given custodial sentences, fewer inmates are being released causing the prison population to rise.
The most overcrowded is Barlinnie in Glasgow, with 462 more prisoners than spaces. Dumfries, Edinburgh, Glenochil, Inverness, Kilmarnock, Perth and Shotts are also over capacity.
Scottish Liberal Democrat ­justice spokesman Liam McArthur MSP said, "Overworked prison staff have less time to work with individuals to help improve their physical and mental health, their skills and their chances of getting their lives back on track. As a result, increasing rehabilitation and reducing reoffending becomes more difficult."
This comes after news last week that Scottish prison staff are to be balloted over the current pay arrangements which have been stagnant in recent times.
Justice Minister Humza Yousaf told the Scottish Parliament that Scotland has the highest imprisonment rate in Western Europe, with 144 per 100,000 of the population in jail.
Humza added that efforts have been made to reduce the number of criminals sentenced including an expansion of electronic monitoring, over £100 million to support community interventions and the forthcoming extension of the presumption against short sentences.
The rising population is partly blamed on the doubling of 'life' prisoners, the increased number of sex offenders and organised crime convicts. Many of these prisoners need to be kept segregated for their own safety or for the safety of others. It makes managing the prison estate more complicated in the space available.
However, one of the main reasons for the increased population is because the average custodial sentence has increased by 21% and fewer prisoners are being released.
Please follow and like us: