Violence & the Justice System: The Rise of Gangs in UK Prisons
Violence is a major problem in many UK prisons, with incidences of assault, riot and criminal damage occurring recently at HMP Oakwood, HMP Nottingham and HMP Feltham.
In 2014, Sadiq Khan, Labour's shadow Justice Secretary, suggested that overcrowding was partly to blame for the situation, stating: 'when we say we want prisons that work, we know that can't mean jails that are simply huge warehouses, squashing in ever more prisoners.' Others blame government cuts, which in turn, lead to fewer staff and facilities to manage inmates effectively.
Gang Culture – A Dangerous Part of the Problem
The combination of overcrowded inmates and reduced funds is a dangerous one. Indeed, it provides an ideal breeding ground for further criminal activity behind bars, and indicates another step away from meaningful rehabilitation and reintegration into the community.
In 2011, Nick Hardwick, chief inspector of prisons, claimed that gang activity was growing, and recent media reports suggest that the problem has only got worse in recent years. He observed that the problem wasn't so much to do with existing gangs but with new recruits, stating that 'some young people who did not have gang affiliations have been joining inside.'
'New gangs are establishing,' he continues, and 'new gangs were forming where a large group of offenders had been moved from a prison in one region to another because of population pressures.'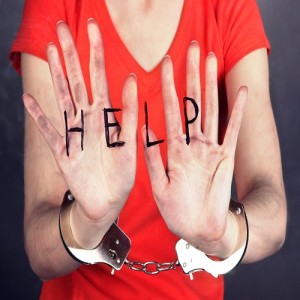 HMP Feltham: Young, Dangerous Prison Gangs
Hardwick mentions two establishments with particularly problematic gang cultures, HMP Brixton and HMP Feltham. An inspection carried out at HMP Feltham, which houses some of the UK's most dangerous young offenders, examined security camera footage, which showed that there were around two incidences of gang-related violence occurring every day.
Feltham, which has been named the 'most violent prison in England and Wales' by the Howard League for Penal Reform, has been labelled a 'disturbing place' by Nick Hardwick, who discovered gang markings marked on cell walls. He continues: 'If you were a parent with a child in Feltham you would be right to be terrified. It would be very hard not to join a gang in Feltham.'
One particular attack caught on CCTV camera, described as 'jaw-dropping' by Hardwick, shows a gang mob suddenly launching an attack on a teen who was watching television. The victim curled up on the floor whilst the gang members jumped up and down on his body.
'What was really disturbing was this group's lack of concern about the consequences for the victim and the lack of concern for themselves,' continues Hardwick. 'This wasn't a hidden assault around a corner, this was in full view of staff.'
The Rise of Muslim Gangs
Of course, there are gangs of every culture and nationality in UK prisons. However, one recent phenomenon has been the rise of the Muslim gang. At HMP Long Lartin, inmates reported being approached by radical Muslims and 'forced to pray at certain times', plus being forced to 'grow a long beard'. Additionally to this, inmates reported having to remove pictures of women from their cells and to stop playing 'western' music.
A former prisoner comments: 'There is a gang culture here, which is an issue. There are issues with Muslim gangs wanting to overpower others. A lot of people are becoming Muslim just because it is a bigger gang.'
Anne Owers, a prison inspector, states that there is a similar situation occurring at HMP Whitemoor, HMP Belmarsh and HMP Full Sutton; with some gang leaders sentenced for terrorist activity, but others in for ordinary offences. Indeed, the population at HMP Whitemoor is approximately a third Muslim, which is a significant number.
Making Progress?
Although the situation looks bleak, HMP Thameside may have found a solution to the problem. Although HMP Thameside, which is managed by Serco, has not enjoyed a good reputation in recent years, it's been praised for its attempts to manage gang activity.
The Catch-22 scheme, which costs £60,000 a year to run, involves an initial chat with a new inmate, to find out whether or not they have any involvement in existing gangs. A management plan is created to ensure that problematic gang members are placed in different parts of the prison.
'We do a lot of conflict resolution,' says Simon Grant, one of the men leading the project. They also hold weekly 'circles' sessions, where emotional issues can be discussed freely. Although incidences of violence are increasing in other prisons around the country, at HMP Thameside, they have significantly dropped; from 90 cases a month to less than 20.
Recognising the Importance of Rehabilitation
HMP Thameside's approach only serves to emphasise the importance of taking a rehabilitative approach, rather than simply using prisons as 'holding pens'. Overcrowded prisons without suitable rehabilitation programmes or support for inmates are breeding grounds for gang activity. Tackling the problem head-on, as Thameside proves, would seem to be the more sensible approach.
*http://www.newstatesman.com/politics/2014/03/sadiq-khans-speech-prison-reform-full-text
* http://www.bbc.co.uk/news/uk-politics-14911174
* http://www.independent.co.uk/news/uk/crime/gang-violence-out-of-control-in-feltham-prison-8698500.html
* http://www.telegraph.co.uk/news/uknews/law-and-order/7428933/Muslim-gangs-imposing-sharia-law-in-British-prisons.html
* http://news.bbc.co.uk/1/hi/8558590.stm
* http://www.theguardian.com/society/2014/nov/19/gang-violence-young-offender-institutes-prisons
Please follow and like us: