HM Prison Lancaster Farms is a category C closed prison for adult convicted males. In 2014 it was re-designated a resettlement prison, one of 70 in England and Wales. The resettlement prisons have the task of beginning to rehabilitate prisoners close to the communities where they will be released. This far surpasses the old way of giving the prisoner a train ticket to a town that may be hundreds of miles away and expecting him to just 'get on with it'. In the resettlement prisons rehabilitation can begin as soon as the prisoner arrives, and built on during his stay, which in theory leads to a lower level of reoffending.
Category C prisons are for offenders that are at low risk of escaping but cannot be fully trusted not to in open prisons. There are 560 men held here, a few are lifers and IPPs (imprisonment for public protection). They are here day after day with no respite until their release. Even if they accept their sentence, it can be a difficult to endure the time you are away from home. Christmas can be a hard time for anyone; many feel alone or struggle with family. Christmas is a particularly hard time for prisoners separated from their loved ones. Visiting is not always possible and even a simple phone call can be so expensive it has to be cut short. Perhaps the children only get to say a sentence each, leaving the prisoner feeling low.
Tackling Mental Health
Being able to talk to your loved ones lowers stress and anxiety levels and generally promotes better mental health. Being able to keep up with family and community on the outside is also thought to decrease levels of reoffending. Connecting with friends and family is so important when someone is feeling low and anxious about the future.
A Christmas Rave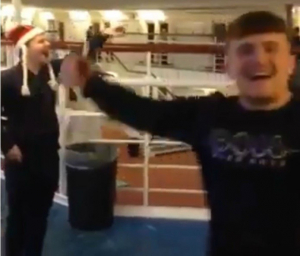 This Christmas the inmates at HM Prison Lancashire Farms got a little bit of extra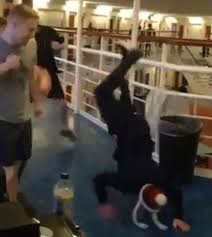 Christmas cheer. It appears the young men were filmed dancing and having fun outside their cells. Although it was a lot less than a rave, as claimed, the prisoners were clearly dancing and singing to music, one wearing a Santa hat and all in informal clothes. Someone was even having a go at a bit of breakdancing! Just young men enjoying themselves for a few minutes, perhaps building up some resilience to help them through the next few months?
Better than Butlins
The video, which was most likely filmed by a prisoner had made it online by Tuesday and got over 500,000 views. There was very mixed reaction from the public, some being horrified over the inmates behaviour, the freedom it seemed to give, and the use of personal mobile phones, which is prohibited. Others were upset that the inmates seemed to be having a better time than ex- service men living on the streets of Britain. Some even compared the two-minute video to a holiday at Butlins', and condemned the governors of the prison for allowing such behaviour.
Mobile Phones Prohibited in Prisons
The prison service responded to the video by condemning the actions of the prisoners, calling them unacceptable, but no mention was made of the prison guards who allowed the party to take place. The spokesperson mentioned that 3,500 extra prison offices have been recruited in the last two years to ensure prison safety, alongside £40 million. The prison service spokesperson went on to condemn the use of mobile phones in prisons and said harsh penalties were imposed when one is found on site. Another £2 million is being spent to detect phones in prisons and block them.
How best to Rehabilitate Prisoners?
These category C men are not considered a huge escape risk; it is a lower category prison where most prisoners will be rehabilitated into the community. Learning how to have fun without doing harm is an important part of this, as is promoting good mental health, and that means connection to others. Perhaps the fun got a little out of hand and should have been overseen and shared by prison officers to ensure it remained within limits. But should all fun and connection be denied to young men who have made a mistake, and are already being punished?
What do you think?


Please follow and like us: